Home
Talk

0
569pages on
this wiki
Why don't we take an ad out in "I'm Poor" magazine?
The
Netflix
marketing machine is gearing up to spread awareness about
Season Four
. Posters, social media, and video clips. What will they delight us with next?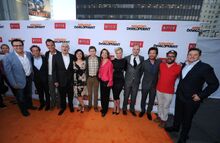 ... it turned into one of the Bluth family's better parties.
The
Arrested Development
cast and crew, as well as their family, friends, and guests, celebrated
Season Four
by holding an orange carpet premiere at Grauman's Chinese Theatre in Los Angeles on April 29, 2013.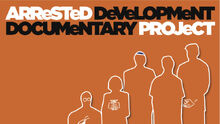 Speech! Speech! Speech! Speech! Speech!
After years of filming and post-production, the ADDP used Kickstarter to procure $20,053 in just five days. Learn about the project, now available for download!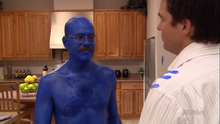 Those are blue too!
The world's greatest mute musical performance artists are colored blue. Attempting to get his acting career in line,
Tobias Fünke
attempts to join their ranks but is blue when they reject him.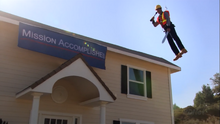 Look at banner, Michael!
A picture is worth a thousand words, but a banner could be worth hundreds! No matter the occasion — the correct way to celebrate is with a banner!
About Arrested Development
Arrested Development
is a ground-breaking sitcom that originally aired 53
episodes
over three
seasons
from November 2, 2003 to February 10, 2006 on
FOX
. Since cancellation it has developed a cult following and its popularity has grown - a
fourth season
is in post-production and a
film
is tentatively planned.
The series follows family man Michael Bluth as he tries to keep his family and business from collapsing after his father George is sent to prison for embezzling money. As the family adjusts from riches to rags Michael helps his mother Lucille keep up appearances, sister Lindsay and brother-in-law Tobias with their failed marriage, son George Michael and niece Maeby through adolescence, and brothers Buster and G.O.B. adjust to working life.
Never seen Arrested Development? We've compiled a First Time Viewer's Guide to Arrested Development so you can see what the hype is all about before you dive in.
We recommend you watch every episode in broadcast order from "Pilot" to "Development Arrested". Each episode builds on the last and paying attention to the details will only further your enjoyment.
Arrested Development Season Four arrives in May 26 2013 08:00.
Mitch Hurwitz and his team are hard at work editing, mixing, and finalizing the 15 episodes of the revival season. All 15 episodes will premiere in entirety on May 26, 2013 in all territories Netflix is available.
Arrested is social! Follow the official @arresteddev Twitter account and like the official Facebook page.
The Arrested Development Wiki was started in February 2007 by fans just like you who love everything about this hilarious gem of television.
We're building up episode guides, quotes lists, and image and video galleries to celebrate the fantastic show that was cut too short. Check out Arrested Development Wiki:Guidelines for some quick pointers! There's always more to do :)
Forum Activity