G.O.B. on taking part: Today I gotta stand next to her like I'm Rita Wilson.

¡Acceso Mexico! is a Spanish-language Mexican TV show.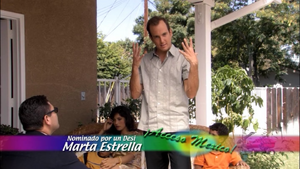 Marta Estrella was interviewed with G.O.B. about her show El Amor Prohibido. Partway through the interview, G.O.B. makes an announcement that he would be incarcerated in the prison holding his own father only to escape 24 hours later.
Given that he announced it in English, he than had to ask for it to be translated. ("Key Decisions")