Cast left to right: Jessica Walter, David Cross, Will Arnett, Mitch Hurwitz and Jeffrey Tambor.
Cast not in attendance: Jason Bateman, Portia de Rossi, Tony Hale, Michael Cera and Ron Howard.
During a Netflix panel at the National Association of Broadcasters convention in Las Vegas, on the evening of April 12, 2012. Arrested Development creator Mitch Hurwitz revealed that the upcoming fourth season of the critically acclaimed former Fox series would be like an anthology series. The entire main cast would be returning.
Quotes
"The seeds for a Netflix reunion came from a simple party conversation with Ron Howard, that let to a meeting with Brian Grazer, which led to a meeting with Mitch Hurwitz, which led to a meeting with Gary Newman at Fox. It was clear that everybody wanted to come back; we just need to figure out how to make it work with everyone's incredibly busy schedules. We decided not to follow the conventional definition of a season; we would produce exactly how many episodes were needed to tell the story."  
Ted Sarandos, Netflix Chief Content Officer
Images
Arrested Development Panel
Videos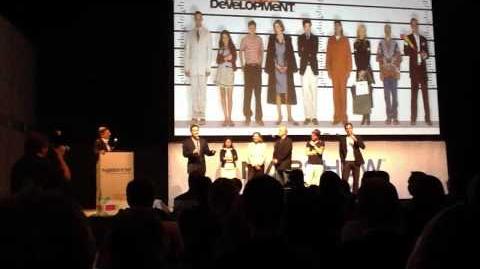 External links
Ad blocker interference detected!
Wikia is a free-to-use site that makes money from advertising. We have a modified experience for viewers using ad blockers

Wikia is not accessible if you've made further modifications. Remove the custom ad blocker rule(s) and the page will load as expected.