On the evening of November 20, 2013 Mitch Hurwitz, David Schwartz and the Arrested Development band were in attendance for the At Long Last... Music and Songs from Arrested Development soundtrack release party.
The Release Party
OC Weekly:
None other than series creator Mitch Hurwitz led the packed cheering section for Schwartz and his band, which includes his daughter Lucy Schwartz, an LA singer-songwriter who performed on many Arrested Development songs. Close your eyes and it's her voice, with a fake British accent, singing "Mr. F."
LA Weekly:
Last night in Hollywood was the celebration of the release of the 42 song Arrested Development soundtrack. Series creator Mitch Hurwitz was on hand; he introduced the "prolific" composer David Schwartz, who wrote more than eighty songs for the series, which not long ago released its fourth season on Netflix. Schwartz played bass in a band that included his daughter Lucy and members of Our Lady Peace and Better than Ezra.
Gold Derby:
There were frozen bananas aplenty and Mexican food inspired by Cinco de Cuatro, with the evening's highlight being the "Arrested Development" band performing some of the original music and songs from the series including the iconic theme tune, "Balls in the Air", "Getaway", and "Boomerang."
Quotes
"This is such a treat. This is a very exciting occasion, we've spent a long time talking about how come there are soundtrack albums for everything in the world except this show that has music in every second of the thing?"  
Mitch Hurwitz
Videos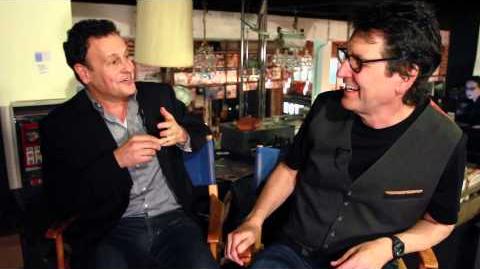 External Links
Ad blocker interference detected!
Wikia is a free-to-use site that makes money from advertising. We have a modified experience for viewers using ad blockers

Wikia is not accessible if you've made further modifications. Remove the custom ad blocker rule(s) and the page will load as expected.