At the 2013 South by Southwest Conference (SXSW) on March 10, Mitchell Hurwitz, Will Arnett, and Jeffrey Tambor of Arrested Development had a Q&A with attendees. Those available were also treated to two never-before-seen clips.
Tambor and Hurwitz stressed that Arrested Development's eager fans, coupled with recent advances in technology, are largely to thank for bringing the show back via Netflix. Hurwitz joked that after being repeatedly recognized at Best Buy, he realized that the Arrested Development fanbase was tech-savvy enough to support an online model.
Clips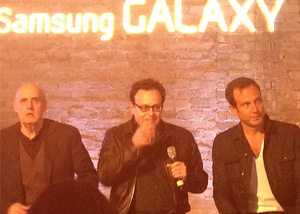 Unfortunately, the clips aren't available since Hurwitz and Arnett only showed the clips after pleading with the audience not to record.
One clip was a finished scene featuring G.O.B. and Michael talking about Forget-Me-Now pills, G.O.B.'s name for Roofies.
The second was an unedited outtake featuring Buster and Lucille (shown earlier at the 2013 TCA Panel).
Guests were also treated to a few seconds of the new opening sequence.
Quotes
"The episodes are coming to fans in a personal way, which is very 'Arrested Development."  
Jeffrey Tambor
"Releasing all 14 episodes at once on Netflix actually enhances the experience."   
'Will Arnett
Images
→ See 11 pictures from 2013 SXSW Conference at Images from 2013 SXSW Conference.
Videos
External links