"A New Start" is the fifth episode of Arrested Development's fourth season.
Tobias searches for meaning after splitting with Lindsay, only to find that old habits die hard.
Synopsis
After his father-in-law was exonerated and mother-in-law was arrested, Tobias and Lindsay decided to take a brief break to discover their purposes in life. Tobias was also appalled by Lindsay's revelation that the entire Bluth family thought he was gay. At the model home Tobias happened across a copy of Eat, Pray, Love and ripped off the Eat and Pray sections and, like Lindsay, decided to take a spiritual trip to India with the mantra "A New Start". He even obtained an ANUSTART license plate. After spilling tea on his sarong in the airplane and retying it Tobias was hit by a bus. He spent two weeks in a hospital before flying back to the states. In the hospital he decided to become a comedy actor.
The Bluth family didn't care about his new career direction and still questioned his sexuality. He and Lindsay bought a mansion from James Carr who Tobias asked to be his acting agent. Tobias didn't find work for months and eventually talked Lindsay into visiting the Garden Grove Methadone Clinic where he met DeBrie Bardeaux who told him she was in the Fantastic Four movie. In the bathroom at C.W. Swappigan's she told him he reminded her of Billy Crystal (Meth, which Tobias didn't hear her say.) He decided to leave Lindsay for DeBrie. DeBrie's heart stopped so he rushed her to a hospital where a doctor told them she was riddled with "itises" and "oususes", but Tobias decided to stay with her to keep the dream alive.
The two wore Fantastic Four costumes to raise money and were arrested twice for copyright infringement. Finally entirely broke, Tobias visited Balboa Towers where he saw the apartment destroyed by Marky Bark's ostrich. He then heard Lucille Austero being attacked by an ostrich and he rushed her to the hospital. She offered hm $120,000 to work at Austerity with her brother Argyle Austero but he turned it down to keep his and DeBrie's dream alive. Upon telling DeBrie, she angrily left him and got into a limo with other party girls outside the Jeremy Piven Night Club.
Tobias returned to the model home to surprise Maeby but was caught by John Beard's reality show John Beard's To Entrap a Local Predator: Orange County Edition: Super Creep and arrested for being a sex offender.
Appearances
Kyle Bornheimer as Shannon Ryan
Regi Davis as Officer Threé
Steve Zissis as Chuck the Canadian
Sharmila Devar as Indian medical student #1
Hasan Minhaj as Indian medical student #2
Mitch Poulos as Priest
Joel Hodgson as Joel Robinson
Trace Beaulieu as Crow T. Robot
Chad Hall as 'Gay' Straightbait actor
Beck Bennet as 'Straight' Straightbait actor
Nelson Franklin as Dr. Tilive
Aimee McKay as Tourist
Dave Anthony as Tourist dad #1
Quinn Friedman as Tourist kid #1
Greg Levine as Feinberg #1
John Phillps as Feinberg #2
Bengamin Burdick as Undercover cop
Thomas Robinson as Undercover cop kid
J.K. Baker as Billy Crystal Meth
Jamila Webb as Nurse Janice
Josh Trank as Process server bum
Adam Mondscein as CIA agent bum
Recurring themes
References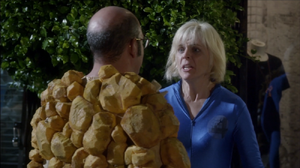 Fantastic Four

Tobias 'recognizes' DeBrie from her appearance in an early 90's low-budget version of Fantastic Four. In 1994 producer Bernd Eichinger scrambled a production of The Fantastic Four for under $1 million to retain film rights. The film was never released to the public. (More info on Wikipedia)
DeBrie is dressed like Invisible Girl from the Fantastic Four. She also is saddened by the fact that her ex-boyfriend Marky Bark couldn't see her due to his face blindness.
Director Josh Trank appears as a process server who delivers Tobias a cease-and-desist order. Trank directed the 2015 Fantastic Four reboot which was a critical and commercial failure. At the time of filming, he was just rumored for the director job.

To Catch a Predator - The NBC reality show is parodied in John Beard's To Entrap a Local Predator: Orange County Edition: Super Creep
Mystery Science Theatre 3000 - The low budget Fantastic Four film is shown with the three MST3K characters overlayed.
Eat, Pray, Love - Tobias, like Lindsay, reads Eat, Pray, Love and decides to visit India.
Portia de Rossi's wedding dress - Tobias's last way of tying the bed sheet during his flight to India resembles Portia de Rossi's wedding dress.
The Ambiguously Gay Duo - A tourist mistakes Tobias and DeBrie's Fantastic Four costumes for the characters from the Saturday Night Live sketch.
Callbacks/Running Jokes
Is Tobias gay? - A central plot to the episode, Tobias is shocked to learn everyone assumes he is gay, but continues to use the worst wording whenever he talks:

Tobias sings "It's just a fallacy!" (sounding like, "It's just a phallus, see?") at the harbormaster's lodge. In fact, as that scene appears in this episode, Netflix captions have Tobias singing "It's just a phallus...see!" The line is "fallacy" when the scene appears in "Indian Takers."
Tobias's license plate reads ANUSTART, which is supposed to be read as "a new start", but everybody else refers it as "anus tart".
DeBrie starred in 9 episodes of Straightbait in one day, one named "anus tart". Tobias admits to watching the second, fourth, and ninth flicks.
After tying his bed sheet in a way that resembles Portia de Rossi's wedding dress, Tobias says "I actually like this better." He also says one of his earlier attempts makes him look like "one of those hot guys from Spartacus".
The body pillow on Tobias's bed looks like a large phallus due to its color, positioning and shape.
When the guy on the street calls Tobias and DeBrie "The ambiguously gay duo", Tobias responds that "I can assure you that there is nothing ambiguous about me"

John Beard's shows - John Beard appears in yet another TV show, John Beard's To Entrap a Local Predator: Orange County Edition: Super Creep.
Eat, Pray, Love - Tobias find's Lindsay's copy of Eat, Pray, Love and gets the same idea to fly to India, as she did in "Indian Takers".
China Garden - The Fünke family eat Thanksgiving dinner at a China Garden.

Medical emergencies - Tobias continues his streak of bad medical luck. He breaks his skull four times in this episode:

Hit by a bus in India
Falling off his gurney when his "sarong" was caught in the hospital elevator
Falling off his hospital bed while talking to interns
Smashed though a model home back door by police officers

FOX 6 - The "Halted Development" broadcast is shown in this episode
Predatory loans - James Carr sells the Fünkes a house with a predatory loans and later commits suicide when the housing market collapses.

The Literal Doctor - Dr. Fishman works at a hospital in The City of Hopelessness, India. He says, "This man broke his skull in two places. Once outside the airport and once in the elevator..."

Shémale shirt - Tobias wears a Shémale shirt in Lucille's apartment
Cutoffs - Tobias wears cutoffs under his sarong. His Thing costume wears cutoffs.
Juice - The attendant at the methadone clinic calls the methadone medicine "juice". Tobias says Carl Weathers charged him $5 for grape juice at his acting classes.
Tantamount Studios - The films Tobias looks at on the flight to India are a "Tantamount Collection" featuring Fantastic Four, Junk, Homeless Dad, and Love, Indubitably.
Rock, Paper, Scissors - Tobias says "in this case, paper beats rock". In "The One Where They Build a House" several Bluths play rock, paper, scissors.
Ostrich Lucille Austero is attacked by Marky Bark's ostrich, but is protected due to her several layers of makeup.
Peanuts - Tobias sullenly walks while "Christmastime Is Here" plays, as many characters did in "Sad Sack" and Michael does in "Flight of the Phoenix".

Lemonade - John Beard offers Tobias some lemonade. Oscar sells lemonade from his lemon grove in "Whistler's Mother" and George squeezes CEOs for thousands of dollars for lemonade in "Borderline Personalities". Michael and G.O.B. share John Beard's Mike's Hard Lemonade in "Colony Collapse".
Klimpy's Express - Tobias brings a bag of food from the fast food restaurant to the model home.
Maeby's age - Tobias does not know how old Maeby is, seen also in "Exit Strategy".
"X... no Y." "It was Z."- When Tobias visits the penthouse, he assumes the destruction was Michael... no... George Michael.
Tips - Tobias tips the two movers poorly (a quarter each), and the men toss the quarters on the bed.
Hidden/Background Jokes
GANGIE 4 - When Tobias first puts his "Thing" costume on there is a sign in the background for a movie called "Gangie 4: Face Lift". This is of course a sequel to the movie that Maeby produced about a horrifically ugly grandmother after seeing Lucille's face after getting plastic surgery of the same name,
Sign Spinners - During James Carr's funeral a man can be seen in the background spinning a sign that says "NOW BURYING" on one side and "CARR FUNERAL" on the other.
Mommy, What Will I Look Like? - a sign for Lindsay's failed business appears in Tobias' trunk.
Cowboys and Indians - A film crew is filming American cowboys in the airport in India.
Is DeBrie a man? - Dr. Tilive calls DeBrie "a 61-year-old male" in the hospital.
SS - The Sue Storm "SS" armbands Tobias tries to bribe the Feinberg lawyers use the "SS" insignia of the German Schutzstaffel, a Nazi police force.
Officer Threé - A police officer at the filming of John Beard's To Entrap a Local Predator: Orange County Edition: Super Creep named named Officer Threé, a joke about character names. Tobias had auditioned by Frightened Inmate Number Two and Confidence Man Number Two.
Pete the Mailman's funeral - During James Carr's funeral, a procession of USPS mail trucks drive behind Tobias. One of the trucks has a "R.I.Pete" banner.
Bob Hope Airport in India - The airport Tobias arrives at in India is "बॉब होप हवाई अड्डे" which translates from Hindi as "Bob Hope Airport", a reference to "Flight of the Phoenix".
Music - when Tobias and DeBrie have their moment in the restrooms, realising one of the Straightbait films DeBrie starred in was called "Anus tart", just liked Tobias' plates, the singer in the music sings "coincidence!"
Foreshadowing/Future References
Quotes
John Beard: And now the story of the awful people who are about to lose everything and the one newsman who had no choice but to entrap them all together. It's John Beard's To Entrap a Local Predator: Super Creep.  
Dr. Tilive: How much butter?
Tobias: I don't know, a Star Trek chess set's worth?  
Man: They're the ambiguously gay duo.
Tobias: I assure you there's nothing ambiguous about me. I'm Johnny Storm, the human flamer.  
Tobias: Is there a little girl all here by herself? Daddy needs to get his rocks off.  
John Beard: How old is she?
Tobias: I want to say 19 but I like to think of her as 15.  
Notes
Promotional Photos
Behind the Scenes
External Links
ANUSTART fan page based on the anustart running joke