Andy Richter
Talk

0
743pages on
this wiki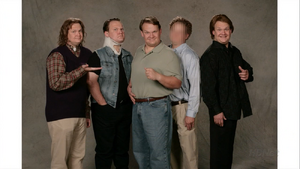 Andy Richter is an actor who occasionally interacts with the Bluth family.
Character history
Edit
Season two
Edit
Andy is seen on the Tantamount set when Tobias and Maeby visit the lot to help Tobias spread his name for the role of "Confidence Man 2". He is later approached by Tobias to read his resume. ("Switch Hitter")
Season three
Edit
It is revealed that Andy is a member of identical quintuplets that all have different personalities (a reference to Andy Richter's real life short-lived sitcom Quintuplets). The quintuplet are: Andy, Donnie, Chareth, Rocky and Emmett.
Michael asks Donnie to ask Andy to sing and dance at the Bluth family's "Save Our Bluths" fundraiser and vaguely threatens him. Andy shows up but instead claims to be Emmett (who never shows his face on TV). ("S.O.B.s")
Season four
Edit
Andy takes a brief leave from Conan O'Brien's show Conan to help Michael rush the movie about the Bluth family to production. When he couldn't make it to Conan on time, he has Rocky fill in for him. ("The B. Team") He is later trying to get into the Ealing Club, but Rocky pretended to be Andy earlier to enter the club on Andy's account. ("It Gets Better")
→ See and enjoy 17 pictures of Andy Richter at Images of Andy Richter.
External links
Edit
Appearances
Edit