Argyle Austero is the younger brother of Lucille Austero and owner and director of Austerity. He is a fan of musical theatre and is known as "Mr. Fantastick" for his role in a community theatre rendition of The Fantasticks.
Character history
Season four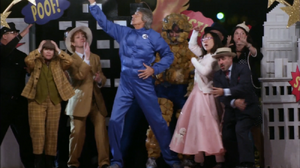 When Tobias is working as a "theralyst" at Austerity for a group including Mark Cherry, Emmett Richter, and DeBrie Bardeaux, Argyle informs him that he is not allowed to treat DeBrie due to their romantic history. Tobias taps into Argyle's love for musical theatre and gets permission to stage a musical version of Fantastic 4: An Action Musical. Argyle plays Mr. Fantastic and asks his sister for $700,000 to do the show right. He and his sister call in Michael Bluth's $700,000 loan at the Balboa Club. On the night of Cinco de Cuatro Argyle and the rest of the cast perform the 8-minute musical — which is not very good. ("Smashed")
Images
→ See 21 pictures of Argyle Austero at Images of Argyle Austero.
Appearances
Ad blocker interference detected!
Wikia is a free-to-use site that makes money from advertising. We have a modified experience for viewers using ad blockers

Wikia is not accessible if you've made further modifications. Remove the custom ad blocker rule(s) and the page will load as expected.