Arrested Development
Talk

0
560pages on
this wiki
Narrator: Now the story of a wealthy family who lost everything, and the one son who had no choice but to keep them all together. It's Arrested Development.  
From "Top Banana"
Arrested Development is a character-driven American comedy television series, which originally ran from November 2, 2003 to February 10, 2006.
Subject
It is about a formerly wealthy and habitually dysfunctional family, the Bluth family. The series is presented in a fashion reminiscent of documentary film/cinéma vérité, with omniscient narration (by Ron Howard), archival photographs, and historic footage. Although set in Newport Beach and Balboa Island, California, it was primarily filmed in locations around Culver City and Marina del Rey.
Background
The show was created by Mitchell Hurwitz, the creator of The Ellen Show, and writer for The John Larroquette Show and The Golden Girls. Hurwitz, together with Ron Howard, Brian Grazer, and David Nevins (all part of Imagine Entertainment) are the series' executive producers. It airs/aired on broadcast networks worldwide, including FOX in the United States, Latin America and Japan, HDNet and G4 in the United States, TV3 in Ireland, BBC Two and Bravo in the United Kingdom, Global TV and CBC in Canada, in Asia on STAR World, in New Zealand on TV3, in Australia on the Seven Network & The Comedy Channel, in Belgium on KanaalTwee and in Turkey on CNBC-e.
During its run, the series earned dozens of awards including six Emmys, a Golden Globe, and a cult fan base. It was also recognized with the "Future Classic" award at the 2004 TV Land Awards. Despite the critical acclaim, however, the show struggled to find a wide audience. At the time of the show's premiere, the producers of the show were sued by the hip hop group Arrested Development over the use of the name.
Fox aired the final four episodes of the third season in a block as a two hour series finale on February 10, 2006; opposite the opening ceremonies of the 2006 Winter Olympics. In the United Kingdom, BBC Two picked up the series in September 2004, and started airing the third season on 24 September 2006. Bravo began airing the first season as a run in to another American import, the Adult Swim block of programming on the 30 August. Showtime was rumored to have offered to pick up the show with at least 26 planned episodes following its release from the Fox Network. The budget would have required Hurwitz to scale down the main cast, which he deemed impossible.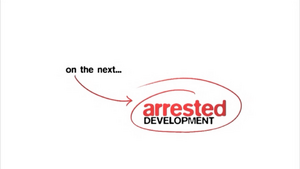 Hurwitz's decision not to continue with the show effectively ended any hopes for the series' continuation, until 2011 when at a reunion hosted by The New Yorker the entire cast and crew announced a fourth season which is awaiting release on Netflix, on May 26, 2013.
Cast
Full list: Arrested Development Characters
Main
Recurring
See also
External links