Arrested Development: And That's Why... You Always Leave a Note is a coffee table book by Running Press. It features iconic images and quotes from the first three seasons of Arrested Development. It was published on October 29, 2013 and is 144 pages long. It was edited by Jennifer Leczkowski.
The book's title is taken from the fan-favorite J. Walter Weatherman quote from "Pier Pressure": That's why... you always leave a note.
Book description
And now the story of a wealthy family who lost everything, and the one son who had no choice but to keep them all together . . . It's Arrested Development.
Full of the most memorable quotes and images from some of the best moments from the original three seasons of the show, Arrested Development: And That's Why... You Always Leave a Note offers valuable life lessons and wisdom from Michael, G.O.B., Lucille, George Sr., Lindsay, George Michael, Tobias, and the rest of the Bluth gang with chapters including: Family First, Huge Mistakes, Parental Guidance, Risky Business, and more. Relive all your favorite Arrested Development moments with this must-have companion to the ground-breaking comedy series.  
Publisher's description[1]
Chapters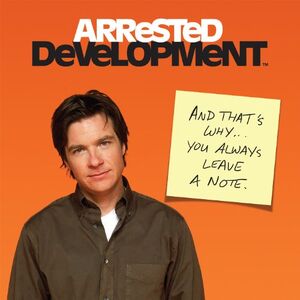 Introduction
Family First
Huge Mistakes
(Mis)Communication
Parental Guidance
Sink or Swim
Marry Me!
Hey, Brother
Risky Business
Growing Up
Purchase
Example pages
Ad blocker interference detected!
Wikia is a free-to-use site that makes money from advertising. We have a modified experience for viewers using ad blockers

Wikia is not accessible if you've made further modifications. Remove the custom ad blocker rule(s) and the page will load as expected.