Arrested Development Movie
Talk

0
859pages on
this wiki

Since the Arrested Development season three finale "Development Arrested" rumors of a feature film have abounded. Series creator Mitch Hurwitz announced on October 2, 2011 that a fourth season was in pre-production which would lead to a proposed Arrested Development movie. 
Since the fourth season premiered Hurwitz and Netflix's Chief Content Officer Ted Sarandos have confirmed they are working on more Arrested Development although nothing has officially been greenlit by a studio. They are still determining if the next chapter in the Bluth's lives will be Season Five or a Movie?
"Development Arrested" hint
Edit
The final scene in the Season Three finale "Development Arrested" (which aired February 10, 2006) features Maeby and Mort Meyers pitching a television series about her family to producer Ron Howard, who says: 
Many fans took this to mean that the cast and crew were preparing a film. However, Mitch Hurwitz and others quickly stated that they had no initial plans to make a movie, but would be interested in the future.
2006-2011 news
Edit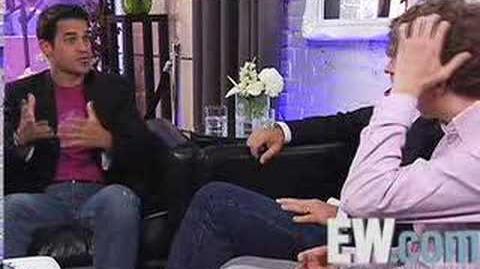 Since the finale, the cast and crew went on to do other successful projects. From time to time, they would be asked in an interview or by a fan if a movie was ever being produced. Some cast members were more confident about the movie happening than others, and all actors said they would be interested in continuing if asked. There was a rumor for a short amount of time that the only person holding out on the movie was Michael Cera, but it was revealed that he and Mitch Hurwitz started this rumor themselves.
2011 New Yorker reunion
Edit
On October 2, 2011 the entire main cast, Ron Howard, and Mitch Hurwitz gathered together in New York for a 90 minute reunion interview. There, Mitch announced that they were writing a fourth season which would lead up to a feature film. The episodes were filmed in 2012 with a release date of May 2013.
2012 news
Edit
Production on Season Four began in August 2012 and wrapped shortly after Thanksgiving with reshoots in early 2013. No further news of the movie surfaced, but Hurwitz stated he was still planning to proceed with a film since the season concluded in a cliffhanger. He indicated that performance of the fourth season would lead to a decision about the film.
2013 news
Edit
Main article: Season Five or a Movie?
At the 2013 Television Critics Association Panel on January 9 Jason Bateman called season four "act 1" of a three-act story. Acts 2 and 3 would be covered in the movie, with Hurwitz hinting that he would be happy to tell the story in any medium. At the March 2013 SXSW Reunion Hurwitz and Arnett said that fans should enjoy Season Four as a precursor to the planned film but that nothing was greenlit. After the fourth season premiered, Hurwitz planned on doing his due diligence on pitching the movie to 20th Century Fox.
On May 22, 2013 Members of the Arrested Development cast had an interview with the LA Times. Jason Bateman, Portia de Rossi, Jessica Walter and David Cross all said that they would be more than willing to make an Arrested Development Movie, but they have not heard anything from Mitch Hurwitz about it.
On a possible Arrested Development Movie: Even with the arrival of the Netflix episodes, those questions won't be going away. "Arrested Development" creator Mitchell Hurwitz designed the 15 new installments to be the first act of a three-act story that will conclude with, yes, the long-promised "Arrested Development" movie.
"So, it's not really going to be finished until those next two acts are played out, it could be in theaters or it might just be a two-hour thing on Netflix," - Jason Bateman
"And the answer would always be the same. 'We don't know. Hopefully, there will be one. Or it could be a whole bunch of movies. Ron Howard told me he wants to make a movie every year," - Portia de Rossi
""Great! Now people will be asking us about that for the next five years." - David Cross  
On May 29, 2013 (three days after Season Four premiered on Netflix) Reed Hastings, Netflix's CEO, announced that Netflix would be willing to buy more seasons if Mitch Hurwitz and the cast could make it work. Since then, Mitch Hurwitz has repeated stated that he's open to making a fifth season in addition to or in lieu of the film, but was working with Netflix on working out the logistics.

In an August interview with Flirt FM 101.3 Mitch explained that the next chapter of the Bluths would continue most of the stories in Season Four and would revolve around a trial about the disappearance of Lucille 2. He also said he was leaning toward making a movie before another season as it would be easier to schedule and produce. Later that month he confirmed to Rolling Stone that he was focusing on making a movie first before another season. On September 25, 2013 Ted Sarandos announced that Netflix guaranteed to produce and release more Arrested Development content.