Season Five of Arrested Development will be released on Netflix in 2018. The entire original cast has been confirmed to return and will appear collectively together more frequently than in the previous season to solve the murder of Lucille 2.[1]
Announcement
On May 17, 2017 Netflix announced that the Bluth family would return in 2018. A press release was published, stating the entire original cast and series showrunner Mitch Hurwitz would return.[2]
History
See also: Season Five/History
The final episode of Season Three, "Development Arrested," featured Maeby and Mort Meyers pitching a TV show about the Bluth family to Ron Howard, who said "maybe a movie." Since that episode aired in February 2006 the cast and crew dropped hints about a film epilogue. At the 2011 New Yorker Festival Reunion series showrunner Mitch Hurwitz and the main cast announced they were going to make a fourth season as a prequel to the film.
The fourth season premiered on Netflix in May 2013 and from 2013-2017 various cast and crew members and Netflix executives stated that Season Five was in the works but it wasn't until May 2017 that the fifth season was officially announced.
During pre-production, production, post-production, and press events for Season Four Jason Bateman and Hurwitz repeatedly called Season Four "Act 1" of a three-act story. In 2017 Bateman has called Season Five "Act 2" with the third act to manifest in a future season or movie.[1]
Production updates
According to Jason Bateman in July 2017, production for Season Five begins in August 2017. The new season will explore more similarities to the Bluth family and the Trump family in the same way similarities between the Bush family were explored in the first three seasons.[3] Bateman also told EW radio that the theme of the fifth season would be a murder mystery as the family attempts to solve who killed Lucille 2?[1] The fifth season will pick up immediately after the events of Season Four.[4]
On July 30, 2017 Jason Bateman tweeted a picture of The Bluth Family Penthouse, stating that production for Season Five would start August 8, 2017.
On September 5, Tony Hale posted a photo of him and Jessica Walter smiling together on the penthouse set.
On November 18, Tony Hale posted a photo from the Season Five wrap party, confirming that the filming for Season 5 has finished.
On February 15 2018, Will Arnett stated in an interview that filming was still in progress, likely reshoots:
Season Four cliffhangers
Season Four ends with several cliffhangers:
Who killed Lucille 2? — Buster is arrested for Lucille Austero's murder although every Bluth has motive for her disappearance. Furthermore, no evidence has been shown she is actually dead.
Who played Thing in Fantastic 4: An Action Musical? — Tobias gives the Thing costume to Buster, who leaves it by the Chicken Dan's tent before punching Herbert Love and fleeing. Yet Thing is seen (poorly) dancing in the floating train wreck of a musical.
What is Michael ashamed of? — Michael returns to the model home late the night of Cinco wearing a banana stand yellow shirt, and is extremely ashamed of something he did. Is it connected to Lucille 2's disappearance?
What happens to Fakeblock? — George Michael's fake company Fakeblock is based on a software that doesn't exist. At the end of the season George Michael is being sued by P-Hound for the ownership of Fakeblock and is, unbeknownst to himself, also being threatened by the hacktivist group Anonymous (who leave him the misinterpreted note "you are about to get screwed like you've never been screwed before") because of Fakeblock's alleged anti-piracy abilities. On top of it all, he is also committing fraud, as Fakeblock doesn't actually have any of its (vaguely) advertised capabilities.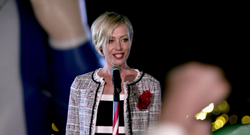 What happens to George Michael's relationship with his father Michael, and their lover's triangle with Rebel Alley? — George Michael and Michael's tug-of-war over Rebel comes to a head when George Michael steps up to his father and punches him.
What happens to the US/Mexico wall that George and Lindsay want to build? — Lindsay was (accidentally) hosting a successful rally to build the US/Mexico wall. Will it get built?
Other story continuations
A handful of smaller stories that could be explored further, such as Maeby's life as a sex offender, Lindsay's congressional run, G.O.B. in a post-Tony Wonder world, a newly forgiving and loving Lucille and post-explosion Tobias. In various post-Season Four interviews, Hurwitz has mentioned that several other elements will return in the next chapter:
Cast
Main
Returning Guest Cast
Format changes
In the initial press release it was stated that the cast would appear "collectively." [2] In a May 2017 interview Will Arnett stated that the new season will be structured "much like the original broadcast series."[10]
Behind the Scenes
→ See 17 pictures from Season 5 BTS at Images from Season 5 BTS.
Videos
→ Watch more videos from Behind the Scenes of Arrested Development at Season Five Interview Videos
References
↑ 1.0 1.1 1.2 1.3 7/20/17 — Vulture.com — Jason Bateman Says Arrested Development Season 5 Will Revolve Around a Huge Mistake, Specifically Murder
↑ 4.0 4.1 4.2 8/15/17 — RottenTomatoes.com — OZARK RENEWED: JASON BATEMAN ON SHOW'S SUCCESS, SEASON 2, AND AN ARRESTED DEVELOPMENT UPDATE
↑ 2/15/18 — ETCanada.com — Will Arnett Gives 'Arrested Development' Update, Talks 'The LEGO Batman' Oscars Snub
↑ 11/2/17 — Uproxx.com — Henry Winkler On Playing It Cool With 'Hank Zipzer' And Returning To 'Arrested Development'
↑ 5/23/17 — @jb111 on Twitter
↑ 12/20/17 — Reddit.com — Maria Bamford AMA
External Links