Neither Season Five nor a movie of Arrested Development have yet been officially greenlit but Netflix CEO Reed Hastings, Chief Content Officer Ted Sarandos, Arrested Development show-runner Mitch Hurwitz and many members of the cast have expressed interest in continuing the Bluth family story in more episodes or in a feature film.
Latest update
Edit
On April 7, 2015 Brian Grazer was interviewed on the podcast B.S. Report was Bill Simmons where he stated another season consisting of 17 episodes was in the works.
Bill Simmons: And Arrested Development was the most street cred?
Brian Grazer: I love Arrested Development but it was never a huge thing. But people are loyal to it, and we're going to do another 17 episodes. So stay tuned for more Arrested Development.  
April 7, 2015 - Brain Grazer interview
The final episode of Season Three, "Development Arrested" featured Maeby and Mort Meyers pitching a TV show about the Bluth family to Ron Howard, who said "maybe a movie." Since that episode aired in February 2006 the cast and crew dropped hints about a film epilogue and at the 2011 New Yorker Reunion Hurwitz and the main cast announced they were going to make a fourth season as a prequel to the film.
During pre-production, production, post-production, and press events for the new season, Jason Bateman and Hurwitz repeatedly called Season Four "Act 1" of a three-act story. Season Four premiered on May 26, 2013 and concluded with several cliffhangers.
Three days after the premiere Reed Hastings, CEO of Netflix announced the company was open to more Arrested Development if the cast and crew could make it a reality. Arrested showrunner Hurwitz said he needed some rest after the past two years making Season Four a reality, but he knew the direction he wanted to take the Bluth family story and was planning on changing the storytelling mechanism yet again (as he did on the fourth season.) He also mentioned that the next chapter could be told in either film, episodic, or needlepoint pattern formats.
2013 Interviews
Edit
On July 11, 2013 Arrested Development executive producer Brian Grazer revealed during an interview:
Jon Erlichman: I have to ask you, are you going to do another season?
Brian Grazer: We are! We're in conversations with them to do another season. They are interested, Netflix, in doing that. Mitch is ready to do it and so are the actors, so we're very excited about it.  
July 11, 2013 — Bloomberg.com

At the 2013 Just for Laughs comedy festival in Montreal Ted Sarandos and Mitch Hurwitz held a panel on Arrested and Netflix. They both took the opportunity to confirm the gears were turning for Season Five:
Mitch Hurwitz: I kinda go back and forth between [a movie] and a series. But here's the most important thing, whatever we do, I want to get the cast all together and not do another anthology thing, and that's why I keep thinking about kicking off with a special or a three-part show and then going into a series. [To Ted Sarandos] Are you game for that?
Ted Sarandos: Absolutely. In any form.  
July 25, 2013 — Chortle.co.uk

In an August interview with Flirt FM 101.3 Mitch explained that the next chapter of the Bluths would continue most of the stories in Season Four and would revolve around a trial about the disappearance of Lucille 2. He also said he was leaning toward making a movie before another season as it would be easier to schedule and produce.
In a podcast interview with Empire Mitch Hurwitz said that himself, Netflix and the cast of Arrested Development want to do a Movie. Also later in the month, Mitch sat down with The Guardian and talked about making the Netflix season and a possibility of a movie:
The Guardian: Even Ron Howard couldn't get someone to greenlight a movie?
Mitch Hurwitz: You'd think, but that's the movie business. So we sat down and he said: "OK, what are you thinking?" And I said: "It needs to be a trilogy." And he put his head in his hands and said: "I don't think they'll do that. How about if you make the first one and then we'll see." And I said: "But people then will be disappointed, I want them to know we'll resolve the story so I want it to be a trilogy." And he said, "It's not going to happen." So I went back to work and it became clear that even if I just spent a little time with each character, there wouldn't be time in a single movie … So the idea that emerged was this anthology show, one character at a time, completely separate, just little webisodes. Then from there, I started being more ambitious and it became about how they all affect each other. Every problem that arises in the lives of the Bluths was started by another Bluth. It's completely self-generated. There's no exterior incident – everything is their fault.  
August 8, 2013 — TheGuardian.com

On August 26, 2013 Hurwitz reiterated in an interview with Rolling Stone magazine that he was working on making a movie first for the mere fact it'd be easier to get the cast together for 5 weeks, instead of 6 months which would be required for a season. He also hinted a fifth season was likely after the movie. He cautioned that it was early in the process and was hesitant to reveal any details because he didn't want to make any false promises:
Mitch Hurwitz: I'm working on the movie right now, I can't get into much more detail because I don't want to scare anybody off. I don't want to be presumptuous about it. I don't own the property outright – it's a 20th Century Fox property. But everybody seems really into it and really eager to make a movie.  
August 26, 2013 — RollingStone.com

On September 23, Showbiz 411 writer Roger Friedman ran into Mitch Hurwitz and John Slattery. Hurwitz confirmed Slattery's Dr. Norman would appear in the film, and that Netflix was planning on producing the film to be followed by a fifth season.[1] On September 25, while being interviewed about Netflix' success at the 2013 Emmy Awards Ted Sarandos was asked if more Arrested was happening, to which he responded:
Ted Sarandos: There's no question. It's a matter of when and what form it takes. We kicked around the idea of doing another season, or doing a movie.  
September 23, 2013 — Zap2it.com

Hurwitz was asked to be the keynote speaker at the 2013 New York Television Festival. On October 23 he gave an hour-long interview to New York Magazine and Vulture.com writer John Sellers. Again he stated that he was interested in making a movie for Netflix and following it up with another season:
Mitch Hurwitz: All I've been able to say is, I really want to continue with this, and the cast really wants to continue with this. So my latest thought that has been approved by no one [...] because it might be tough to get the cast together for, like, the four months that you would need to make a series — to try to get them together for four weeks sooner, and do the movie that is the story that we've been building up to in the show. And then, bring the series back after that. It's not my decision but it's what I want to do.  
October 23, 2013 — Vulture.com

On October 24, 2013 Ron Howard had an interview with Zap2It about the future of Arrested Development
"Everybody wants to do more, Mitch did initiate the whole thing as the beginning of a kind of mystery that needs to be solved, and somehow or another I'd be shocked if we didn't find a way to solve it and do that. Everybody is incredibly busy. There's no timetable. No writing has begun. Creatively, I think it is everybody's intention [to do more]."
Ron Howard says 'everybody wants to do more' - Entertainment Weekly
2014 Interviews
Edit
Jason Bateman talked to Zap2It in January 2014 about Arrested Development and where things will be going after Season Four:
Zap2it: So where do we stand now?
Jason Bateman: That's absolutely out of my hands. No one's talked to me about any of it, but Mitch Hurwitz and [Netflix's] Ted Sarandos would be the two who would really be driving that agenda. My ears are wide open if they ever want to talk to me about it. [...] I'm the last person to ask about that. I'm not good at sort of gauging the zeitgeist. All I know is that I love doing it. I love doing anything with any of those guys. We were just at the SAGs all around the table together, and it was just a blast.  
January 19, 2014 — Zap2It.com
Will Arnett was asked by HuffingtonPost what he was expecting from Season Five of Arrested Development. He then continued to talk about the reactions to Season Four:
Huffington Post: What do you want to see from the fifth season of Arrested Development?
Will Arnett: I think I would want to see what everybody else wants to see. By everybody else, I mean the fans, who are in a lot of ways, weirdly, part of the process of "Arrested Development" now. It was their desire to see more that brought it back. I also mean everybody who is on our side, the creative side, from Mitch through the cast. The next version is going to have all of us together much more. I know there was a lot written about us being not together because of schedules and because of whatever. Also, I think some of the way Mitch told that last story -- I don't think anybody has made anything like that before. This anthology, if you will. I found it to be very interesting. He's telling this story and I think it was very cool. Having said that, it will be nice to get the gang back together.
Huffington Post: Did it feel like you guys were caught between a rock and a hard place, where if you just repeated the first three seasons, people would be disappointed, yet if you tried something new, like it was, people are also unhappy?
Will Arnett: Absolutely. 100 percent. We were damned if we did and damned if we didn't. Unfortunately, we live in a world where not only does everyone have to have an opinion, but it tends resonate more if the opinion is shitty and mean. So unless you're saying something really shitty about something, you're not going to get heard. There were a lot of great reviews that really liked the show and thought it was really interesting. The stuff that kind of got through was negative: "'Arrested,' Not What It Was." That was inevitable! People trip over themselves to be the first to say the shit thing. They go out of their way. That, by way, cuts across everything. "Arrested Development" is not the only example of that. Everybody is susceptible to that. Not like I need to make some huge social commentary, but it's absolutely true. People can't wait -- whether it's Twitter or Facebook -- people can't wait to say something shitty.  
February 03, 2014 — HuffingtonPost.com
On May 17, 2014 at the Wild West Comedy Festival in Nashville Mitch Hurwitz was interviewed by Nerdist podcast host Chris Hardwick. He stressed that more Arrested Development, be it a movie or another season, would be coming "for sure".
On August 5, 2014 USA Today released an article stating that Netflix is "positive" that Arrested Development will be coming back.
USA Today:
Ted Sarandos
is also "positive" that another season of
Arrested Development
is in the offing: "It's just a matter of when," he says, adding that sorting out actors' schedules is a concern: It was "a fair criticism" of last year's revival of the cult comedy "that the cast didn't appear on screen often enough together."   
August 5, 2014 - USAToday.com
On August 8, 2014 Will Arnett was on The Tonight Show with Jimmy Fallon promoting Teenage Mutant Ninja Turtles and announced that there is going to be more Arrested Development on Netflix:
Jimmy Fallon
: Netflix announced that Arrested Development was coming back for another season, is that true?
Will Arnett: The answer is yes, You know, the truth is, that the guy who's the big boss man at Netflix, he announced it. We don't know when, but it's going to happen."  
2015 Interviews
Edit
On January 7, 2015 Ted Sarandos told reporters at the Television Critics association that scheduling for all cast members is difficult but "everyone is trying to make it happen."
On February 19, 2015 Portia de Rossi had an interview with ELLE Magazine to discuss her character and diversity on tv. ELLE also asked her about Arrested Development.
ELLE: Will there be more Arrested Development?
Portia de Rossi: I have heard that they are working out how to do something more for Netflix, whether it's going to be another season or a movie. I'm not sure how it's going to take shape. I know there is interest in doing more. I'm hoping we become the Boyhood of TV where we keep going over a span of time and our children will have children. The Bluth family should never go away. We should keep popping up every few years.  
February 19, 2015 - Portia de Rossi ELLE Magazine Interview
On April 7, 2015 Brian Grazer was interviewed on the podcast B.S. Report was Bill Simmons where he stated another season consisting of 17 episodes was in the works.
Bill Simmons:
And
Arrested Development
was the most street cred?
Brian Grazer: I love Arrested Development but it was never a huge thing. But people are loyal to it, and we're going to do another 17 episodes. So stay tuned for more Arrested Development.  
April 7, 2015 - Brain Grazer interview
Cliffhangers
Edit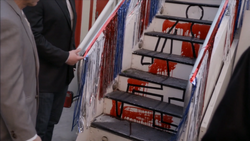 Season Four ends with several cliffhangers:
Who killed Lucille 2? — Buster is arrested for Lucille Austero's murder although every Bluth has motive for her disappearance. Furthermore, no evidence has been shown she is actually dead.
Who played Thing in Fantastic 4: An Action Musical? — Tobias gives the Thing costume to Buster, who leaves it by the Chicken Dan's tent before punching Herbert Love and fleeing. Yet Thing is seen (poorly) dancing in the floating train wreck of a musical.
What is Michael ashamed of? — Michael returns to the model home late the night of Cinco wearing a banana stand yellow shirt, and is extremely ashamed of something he did. Is it connected to Lucille 2's disappearance?
What happens to Fakeblock? — George Michael's fake company Fakeblock is based on a software that doesn't exist. At the end of the season George Michael is being sued by P-Hound for the ownership of Fakeblock and is, unbeknownst to himself, also being threatened by the hacktivist group Anonymous (who leave him the misinterpreted note "you are about to get screwed like you've never been screwed before") because of Fakeblock's alleged anti-piracy abilities. On top of it all, he is also committing fraud, as Fakeblock doesn't actually have any of its (vaguely) advertised capabilities.
What happens to George Michael's relationship with his father Michael, and their lover's triangle with Rebel Alley? — George Michael and Michael's tug-of-war over Rebel comes to a head when George Michael steps up to his father and punches him.
Other story continuations
Edit
In various post-Season Four interviews, Hurwitz has mentioned that several other elements will return in the next chapter:
Interviews and Video Clips
Edit
Most Recent Announcement
Edit
Other Interviews and Clips
Edit
References
Edit