Ad blocker interference detected!
Wikia is a free-to-use site that makes money from advertising. We have a modified experience for viewers using ad blockers

Wikia is not accessible if you've made further modifications. Remove the custom ad blocker rule(s) and the page will load as expected.
"Bluth's Original Frozen Banana" is a frozen banana stand started by George in 1953 as part of the Bluth Company. It is located on the Oceanside Wharf boardwalk, on Balboa Island in Newport Beach. Throughout the series, the banana stand gets destroyed and rebuilt several times.
See frozen banana for details on the produce.
The stand allegedly opened in 1953 ("Pilot") but a ribbon-cutting ceremony for the stand commenced in 1963. ("The One Where They Build a House") The idea for the stand was stolen from Annyong's grandfather. ("Development Arrested") The stand was a popular meeting place for the buying and selling of marijuana in the 1970s. As the stand itself was built to resemble a large yellow banana, it was commonly known as "the big yellow joint", and became the topic of a hit song - Big Yellow Joint, by Jimmy Jane. ("Pier Pressure")
Season one
Edit
George Michael worked the banana stand and was pranked by his cousin Maeby who claimed that she found a fox foot in a banana. She devised a plan to convince her mother to let her see her family, which included kissing George Michael. The young man was then approached by his uncle G.O.B. who swindled him out of $20 in a magic trick. ("Pilot")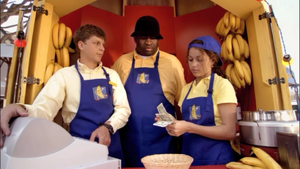 As the Bluth Company was struggling, George repeatedly assured to Michael, "there's always money in the banana stand." Michael made George Michael "Mr. Manager" of the stand and also hired on Maeby to help. George hired T-Bone out of friendship from prison. Weary of his father's constant involvement in the business, Michael burned the stand down in a moment of protest not realizing that his father's statement was meant to be taken literally; there were $250,000 contained in the walls of the banana stand. ("Top Banana")
Michael refuses to let G.O.B. have a "G.O.B."—a frozen banana with double the chocolate, nuts, and two sticks. When Michael needs a favor, he allows G.O.B. to have a free banana whenever he wants, but Michael retained animation rights for Mr. Bananagrabber. ("Charity Drive")
Buster visited George Michael at the banana stand to ask him to buy marijuana for Lucille 2 who was suffering from extreme fits of her chronic vertigo. ("Pier Pressure") Jessie visited the banana stand to rudely tell George Michael that he was getting in the way of Michael's happiness. George Michael was also able to get a bum away from the stand by giving him a balloon. ("Public Relations")
Lucille arranges a job for Annyong at the banana stand to get him out of her hair. Annyong asks if George Michael's father doesn't love him since he never has time to listen to him, after Michael swings by the banana stand and leaves without listening to George Michael's complaints. ("Staff Infection")
While working at the banana stand, George Michael thought he saw his grandfather with a wig. Maeby teased him until she saw the same thing the following day. It turned out to be Oscar Bluth. ("Whistler's Mother") While working at the banana stand, George Michael meets Ann Veal who agrees to watch a FOX 6 report on the Atkins diet with him. ("Let 'Em Eat Cake")
Season two
Edit
The 1963 ribbon cutting for the banana stand by George is shown in a flashback. ("The One Where They Build a House") George Michael closes the banana stand so he can have brunch with Ann. The sign reads: "The frozen banana maker is out", in the style of Peanuts. ("Good Grief")
An annual Christmas tradition by Newport Beach youths is to destroy the banana stand by throwing it into the ocean. This year, the vandal defaced it with "I get you Bluth, Hello". Michael and Maeby rebuild the stand. After G.O.B. fires the entire Bluth Company staff at their holiday party, a second is held at the stand and G.O.B. wears the banana suit to let the estranged employees laugh with him. Lucille, high on marijuana, gets the munchies for a frozen banana but can't stop her car when she slips on the banana suit's peel. She runs over Tobias and traps G.O.B. in the banana stand. Buster uses a construction claw to rescue G.O.B.. Michael and George Michael reunite and rebuild the stand. ("Afternoon Delight")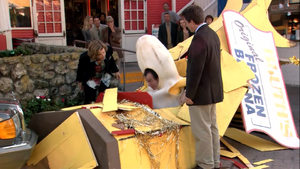 George Michael is off with Ann so Michael works the banana stand and is embarrassed when Sally Sitwell approaches him. They flirt but G.O.B. scares her away. ("Burning Love") George Michael and Maeby close the stand so they can brunch at Skip Church's Bistro, also on Oceanside Wharf. ("Out on a Limb")
On assignment from Mort Meyers of Tantamount Studios, Maeby works at the stand during Spring Break to revise the script for The Young Man and the Beach where coeds laugh every time she says "bananas and nuts". ("Spring Breakout")
Season three
Edit
Michael asks G.O.B. to set up another banana stand and G.O.B. sets up his Banana Shack feet away from the banana stand on Oceanside Wharf. George had arranged to smuggle pesos through the Shack and used his son's sibling rivalry to keep them distracted. Michael and G.O.B., with their sons George Michael and Steve Holt competed for business by using the banana suit, the jetpack, fireballs, and discounts to attract customers. ("Making a Stand")
George reveals that he got the idea for the banana stand from a Korean immigrant who only labeled his product as "cold banana in delicious brown treat". Lucille arranged to have the Korean deported after he threatened to sue. That man turned out to be Annyong Bluth's grandfather, who returned to destroy the Bluth family. ("Development Arrested")
Season four
Edit
The Banana Stand is not seen in the years between 2006 and 2013, but it appears in a mural in Phoenix and Michael is seen wearing an employee's yellow shirt after Cinco de Cuatro. ("Flight of the Phoenix")
Season one
Edit
Season two
Edit
Season three
Edit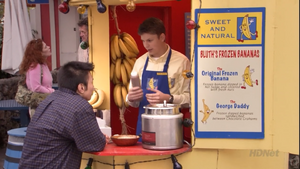 The Original Frozen Banana — Frozen banana dipped in hot fudge and covered with fresh nuts
The George Daddy — Frozen dipped bananas sandwiched between chocolate grahams
The G.O.B. — Frozen banana double dipped in chocolate with double the nuts. ("

Charity Drive

")
The On the Go-Go Banana — Frozen banana in a cup of sizzling hot fudge
The Giddy-Girly Banana — Frozen banana dipped in hot fudge and covered with our pink heart candy
The Simple Simon
Double-Dipped Frozen
Arrested Development Clips
Edit
As features on TV Shows
Edit