Cho is Wayne Jarvis's legal assistant.
Character history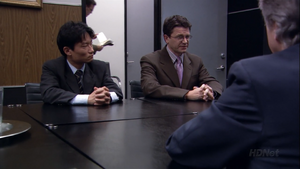 Season two
When Wayne offered Michael an offer about giving him immunity in exchange for his father's location, Cho assisted in the stare down. ("Sad Sack") Cho is also present when Wayne has Michael arrested for lying about George Bluth's whereabouts. ("Righteous Brothers")
Season three
Later, when meeting with Michael about his brother G.O.B.'s troubles in Iraq, Cho assisted in a similar stare down. He also reminded Wayne of Buster's song requests and chided him for not showing a news clip online, and relying on the TV news. ("Exit Strategy")
Quotes
Images
→ See 9 pictures of Cho at Images of Cho.
Appearances
Ad blocker interference detected!
Wikia is a free-to-use site that makes money from advertising. We have a modified experience for viewers using ad blockers

Wikia is not accessible if you've made further modifications. Remove the custom ad blocker rule(s) and the page will load as expected.