The Church and State Fair is a Newport Beach event. When the State Fair was cancelled due to low funds, the wealthy evangelist Robert Patterson (parody of real-world Pat Robertson) funded the fair and was thus named The Church and State Fair". Many traditional fair events were re-imagined to incorporate religious doctrine. ("Notapusy")
Known events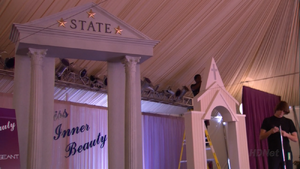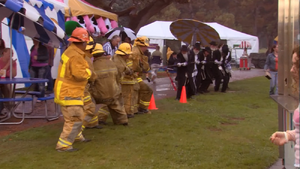 In addition to several stalls and general amusement faire contests, the fair includes:
The Father-Son Triathlon, which Michael and Steve Holt took part in. It consisted of seveal tricycles, five inflatable pools, and fathers and sons being manacled together.
Miss Inner Beauty, an 'inner-beauty' pageant, which Hope Loblaw, Ann Veal and Surely Fünke took part in.
A state-sponsored Startled Straight tent, intended to scare young offenders into going straight, which George was asked to speak at.
A church-sponsored Startled Straight tent, intended to scare young gay men into a heterosexual lifestyle, which George actually spoke at.
An army recruitment tent with two entrances, which George Michael visits:

One entrance labelled 'Looking for Meaning? God Welcomes You', sponsored by the Department for Weights and Measures, with a sign saying 'Free Sports Bottle!' nearby.
One entrance labelled 'Be a Man. Join the Army', with a sign saying 'Free Hats' next to it.
(They are indeed free hats and sports bottles.)

A tug-of-war contest between firemen and members of the Jewish community.
A tent with various attractions such as:

'Worlds Biggest Priest'
'Amazing Phenomenons: See a DMV clerk not on break!'
'Siamese smog inspectors'
'Non-Bearded Nun'

A corndog stand with "All the crucifixin's"
A replica Humvee and replica Popemobile
Gallery
Ad blocker interference detected!
Wikia is a free-to-use site that makes money from advertising. We have a modified experience for viewers using ad blockers

Wikia is not accessible if you've made further modifications. Remove the custom ad blocker rule(s) and the page will load as expected.