Ad blocker interference detected!
Wikia is a free-to-use site that makes money from advertising. We have a modified experience for viewers using ad blockers

Wikia is not accessible if you've made further modifications. Remove the custom ad blocker rule(s) and the page will load as expected.

During the initial three seasons of Arrested Development the official Fox website was fox.com/arresteddev. The site featured news, character bios, episode recaps, videos, and wallpaper downloads, among others. The site is no longer functional, but some features are accessible via the Wayback Machine.
2003-2004
Edit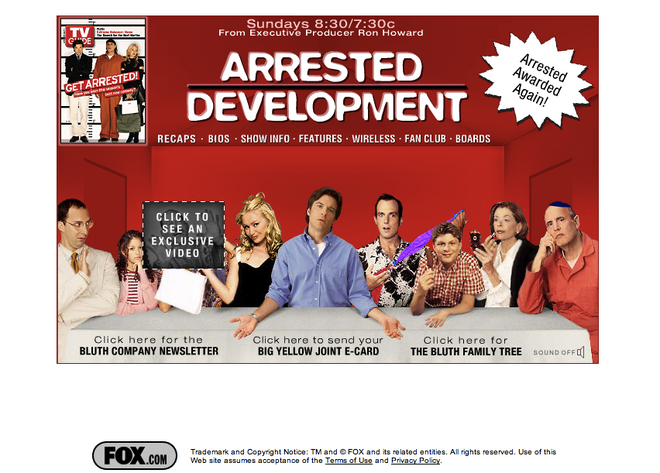 From 2003 to 2004, Season One to the first half of Season Two, the site featured an entirely flash-website with an animated intro that played heavily on the Monopoly theme the Fox marketing team used to promote the show. The main page featured the Bluth family posed as Leonardo da Vinci's The Last Supper with Michael as the Christ-like figure position. View on the Wayback Machine.
2005-2006
Edit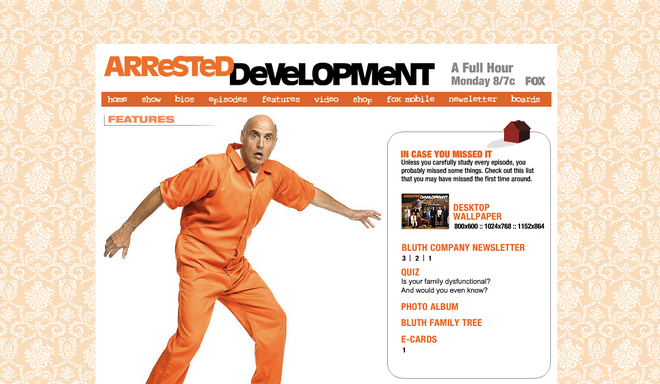 In January 2005, every Fox.com site got a modernized face lift, ditching the animated flash intro and interface. By Season Three Fox realized the show was never going to garner a mass audience so didn't change the website for the new season. After the final season on Fox aired in February 2006, the site was retired in May 2006. View on the Wayback Machine.]