G.O.B.
Talk

2
569pages on
this wiki
Redirected from GOB
George Oscar Bluth Jr., better known as G.O.B., is the arrogant older brother to Michael Bluth and is a main character of Arrested Development. He is portrayed by Will Arnett and appears in 53 episodes of the series.
A social peacock, G.O.B. exudes a certain type of showmanship at all times, perhaps best illustrated by his favorite mode of transportation: his trusty Segway. Once a highly respected magician and founder of The Alliance of Magicians, G.O.B. fell from grace when the TV news revealed the secret to his illusion.
G.O.B. is last seen in "Development Arrested", attempting to flirt with his sister Lindsay after finding out she was adopted.
About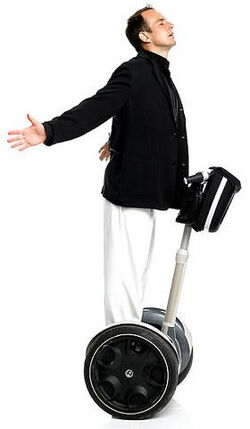 Oddities and Quirks
Pronounced "Jobe," his name is often mispronounced as "gawb". G.O.B. makes up for lack of attention in his childhood by being boisterous and larger than life. He rides a Segway and lives on a series of yachts. He always seeks for the approval of others in his work and dating lives, and often asks for high-fives which go unanswered. Despite his deep need for acceptance, he has no real friends, other than Michael. ("Best Man for the Gob")
His emotions range immensely. When he's even the smallest bit sad he can cry and becomes upset when those around him don't cry. When faced with difficult decisions, he may act rashly, such as nearly hanging himself with his belt. ("Sad Sack") He tends to overblow bad choices by saying "I've made a huge mistake" or "Come on!" when upset. To mock people, G.O.B. puts his whole body into an over-the-top Chicken Dance.
Dating life
A natural womanizer (which he may have inherited from his father), G.O.B. struggles to stay in committed relationships. In high school G.O.B. slept around and unwittingly impregnated Eve Holt with Steve Holt. ("The Immaculate Election") G.O.B. dates Marta Estrella for several months in 2003 until she leaves him for his younger brother Michael. ("Beef Consommé") G.O.B. sleeps with Kitty several times to stay on her good side. ("Visiting Ours") He does the same with Lucille Austero, his mother's social rival. ("Burning Love") G.O.B. married a woman on a dare and for a short period of time lived a settled life until she left to join Army. He never did learn her name. ("Whistler's Mother") G.O.B. later gets into a relationship with Ann. ("Development Arrested")
Magic career
Although it is currently unknown how G.O.B. began his magic career, by the early 2000s he was a respected and "talented" magician. Demanding that society take him and his magic career seriously, he founded The Alliance of Magicians. In 2003 Trisha Thoon revealed how his Aztec Tomb illusion worked on TV and he was kicked out of his own Alliance. ("Pilot") He attempted to get back into the Alliance with a Prison escape illusion, ("Visiting Ours") a Saw the lady in half illusion, ("Storming the Castle") a Disappearing yacht illusion, ("Missing Kitty") a magic coffin illusion, ("Good Grief") The Sword of Destiny illusion, ("Sword of Destiny") and a Free Chicken Illusion. ("For British Eyes Only")
G.O.B. is always prepared to perform an illusion, be it pulling a live dove out of his pants, shooting pennys into a crowd, or shooting a fireball (more often lighter fluid.)
Other work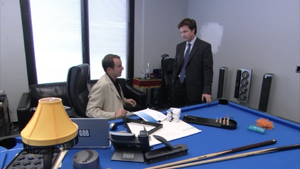 Because a life of magic won't always pay the bills, G.O.B. has had other sources of income, usually based on whatever strikes his fancy. His most steady source of income is monthly envelopes of cash from the Bluth Company. ("Staff Infection") G.O.B. has also worked as a member of the Hot Cops male stripper troupe. ("Pier Pressure") He is also the creator of the Mr. Bananagrabber character ("Charity Drive") and used to use an African American puppet named Franklin Delano Bluth in his magic act. ("Meat the Veals")
To appease the shareholders of the Bluth Company, G.O.B. was made president in 2004. Although he caused a lot of damage in his office (namely bringing in a pool table) Michael was the real brains behind the operation. ("The One Where Michael Leaves") G.O.B. then worked at Sitwell Enterprises as a mole for a softball game, but stuck around because he enjoyed Stan Sitwell's fatherly attention. ("Switch Hitter")
Character history
Season one
G.O.B. attempted to perform the Aztec Tomb illusions at George's retirement party, but George Bluth ended up hiding inside. When the police dogs discovered him, FOX 6 picked up the story and ruined the illusion. G.O.B. was promptly kicked out of The Alliance of Magicians. ("Pilot") G.O.B., out of work but not inspired to actually do any work asks Michael if he can have something to do. Michael gives him a letter to mail but he instead throws it into the ocean. ("Top Banana") After getting kicked out of his girlfriend's house G.O.B. struggles to find a place to live, and he refuses to take an grief from his family. ("Bringing Up Buster")
Attempting to rejuvenate his magic career, G.O.B. checks himself into Orange County Prison to perform a Prison escape illusion. He is stabbed by White Power Bill and is sent to a hospital. ("Key Decisions") G.O.B. stews after Michael refuses him to have free Bluth frozen bananas until Michael needs a favor. G.O.B. then has Michael ask his son to show him respect. ("Charity Drive") G.O.B. sleeps with Kitty to get information about where some files are located, despite being repulsed by her. He sleeps with her again to distract her so George and Lucille can have a conjugal visit. ("Visiting Ours")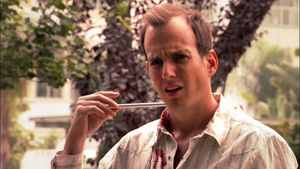 G.O.B. grows suspicious of Michael when he learns Spanish. He also sees Maeby's ticket to Portugal and attempts to stop Michael from fleeing the country by chasing him on his segway. ("In God We Trust") Michael tells G.O.B. that he is selling the family yacht Lucille which G.O.B. has been using as his home. G.O.B. thinks about fleeing to South America but decides to stay and stick up for his brother. ("My Mother, the Car") G.O.B. attempts to regain membership in The Alliance of Magicians by performing a show at the Gothic Castle. He also rekindles his relationship with Marta when she is used in his saw the lady in half illusion. ("Storming the Castle")
Buster
asks
George Michael
for
marijuana
, who asks G.O.B.. Michael finds out and works with G.O.B. and the
Hot Cops
to teach his son a lesson. In turn, they are taught a lesson about teaching lessons by their father.
("

Pier Pressure

")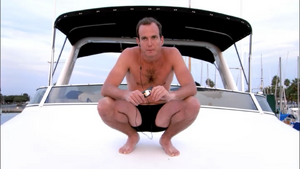 To attempt to repair his image, G.O.B. performs some free magic shows for senior citizens. When a nursing home resident disappears during his show he becomes the spotlight of an investigation, but the resident eventually surfaces, and G.O.B. attempts to label himself a hero, unsuccessfully.
("

Public Relations

")
 When G.O.B.'s girlfriend Marta realizes she is in love with Michael, G.O.B., knowing only she's in love with someone else, searches for the "
hermano
" perpetrator.
("

Marta Complex

")
G.O.B. eventually finds out that Michael is hermano and is initially content, but changes his mind and fights his brother at the
courthouse
. Marta then leaves them both.
("

Beef Consommé

")
Still mad about Marta, G.O.B. attempts to steal Michael's love interests but sleeps with the wrong women. ("Shock and Aww") To earn his usually-free paycheck, G.O.B. is asked by Michael to work at a Bluth Company construction site. He gets fed up and challenges Buster to a game of chicken. ("Staff Infection") G.O.B. meets a woman and gets married on a series of escalating dares. He never learns her name. ("Altar Egos")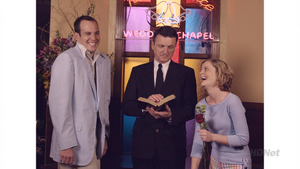 George suggests that G.O.B. steal files from Maggie Lizer's house, but G.O.B., now a married man, enlists the help of Tobias. ("Justice Is Blind") During Spring Break G.O.B. attempts to capture some publicity by performing a Disappearing yacht illusion. It worked, but not by magic: he sunk the yacht. ("Missing Kitty") In a ploy to get the Bluth Company accountant Ira Gilligan to not testify, G.O.B. attempts to blackmail him during a fake bachelor party. ("Best Man for the Gob")
Looking to profit from some money Michael freed up, G.O.B. and Tobias team up to form Gobias Industries, a chain of coffee shops. ("Whistler's Mother") G.O.B., jealous that Lindsay claimed to have stolen clothes from a mall, attempts to shoplift with the aid of George Michael. ("Not Without My Daughter") G.O.B. is approached by Kitty who wants him to make a power play to control the Bluth Company, but he buckles at the pressure. ("Let 'Em Eat Cake")
Season two
G.O.B., now the president of the Bluth Company after Michael decided to leave the family, finds a briefcase in his office wall with a signed contract between his father and Saddam Hussein. The briefcase is stolen by a disguised George. ("The One Where Michael Leaves") Attempting to impress the board of directors, G.O.B. promised to build a new house in two weeks. The house, just a frame, collapses and he looks like a fool in the press. ("The One Where They Build a House") When Michael heads to Mexico to find George, G.O.B. thinks he is trying to flee the country. He follows him to Mexico is later set up with Gene Parmesan and Ice to track down George. ("¡Amigos!")
At his supposedly dead father's wake, G.O.B. performs the Magic coffin illusion which fails when Buster learns that his father is dead. He is named Poof Goof of the Year. ("Good Grief") G.O.B. assumes he knows too much but is sad when he learns the prosecution doesn't want to interrogate him. He can't muster enthusiasm to help Buster train for Army until he learns about the WMDs. ("Sad Sack") G.O.B. is alienating employees at the Bluth Company and fires them all when they laugh at him. Michael throws a second holiday party and G.O.B. dresses up as a banana to show his human side. ("Afternoon Delight")
G.O.B. is hired by Stan Sitwell of Sitwell Enterprises for his bullish business techniques but Michael thinks it is only because of an upcoming softball game. Michael asks G.O.B. to throw the game but changes his mind when he sees that Stan is the only supportive father figure G.O.B.'s ever had. ("Switch Hitter") G.O.B. is fired from Sitwell Enterprises a short time later and finds his way back in power at the Bluth Company by sleeping with Lucille Austero. ("Queen for a Day") G.O.B. continues to see Lucille 2 but is ashamed to be seen with her. He eventually comes around and bids $10,000 on her at the bachelorette auction. ("Burning Love")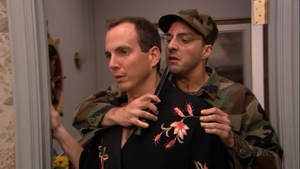 When Lucille 2 begins acting distant, G.O.B. enlists the help of Buster to track her down and they discover she is dating Stan Sitwell. ("Ready, Aim, Marry Me") G.O.B. is sued for divorce and for the loss of a seal that he used in a magic show. He asks Barry for help in his case. ("Out on a Limb") G.O.B. is horrified by Buster's accident and tries to cover up the fact that he was responsible for giving the seal the taste for mammal blood. In the end, he tells Buster the truth, but is injured by Buster's angry claw. ("Hand to God")
G.O.B. faces off against his wife in a divorce hearing and claims that they never consummated the wedding. She easily seduces him and he loses his claim.
("

Motherboy XXX

")
G.O.B. attempts to help his nephew win a Student Council election by making a campaign video showing how tough
George Michael
is. The plan backfires and
Steve Holt
, G.O.B.'s biological son, dominates the election.
("

The Immaculate Election

")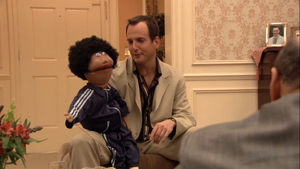 G.O.B. teams up with Buster to perform
The Sword of Destiny
illusion for
Tony Wonder
to attempt, yet again, to gain access to the exclusive
Alliance of Magicians
. Instead, his finger tips are cut off.
("

Sword of Destiny

")
G.O.B. busts out his African-American puppet Franklin to hip up his act again. Franklin is used to knock Lucille out so George can renew their wedding vows. ("Meat the Veals") At Spring Break again, G.O.B. wants to take revenge on Phillip Litt for only including his flubs in his Girls with Low Self-Esteem video, but instead helps Michael rescue their father from Kitty. ("Spring Breakout") G.O.B. nearly turns in George to the police so Michael can go free. When he finds out Michael lied to him about listening to his Franklin Comes Alive CD, G.O.B. hides George. Michael and him again fight at the courthouse until George arrives and turns himself in (but not before swapping with Oscar.) ("Righteous Brothers")
Season three
Dejected by Michael's broken promise of a camping trip, G.O.B. receives a letter from S.A.D. on behalf of Steve Holt, his biological son. He assumes it is from his father and is dejected yet again so he and Steve Holt go on a "son and son" camping trip of their own. ("The Cabin Show") G.O.B., uncomfortable with his newfound fatherhood, attempts to hide from Steve Holt. He almost comes to terms with his fate during his Free Chicken Illusion, but cowards out and flees. ("For British Eyes Only") G.O.B. and the Bluth family pick Rita up from daycare and G.O.B. slips her a Forget-Me-Now rohypnol pill after Buster attacks her. ("Forget-Me-Now")
G.O.B. continues to avoid Steve Holt so Steve asks Michael to do a father-son triathlon at the Church and State Fair. G.O.B. becomes jealous so he cuts off Michael's bike's handlebars. ("Notapusy") Buster gets ahold of George's access to Larry Middleman so he and G.O.B. build a "tiny town" to fool the Japanese investors. ("Mr. F") G.O.B. prepares an illusion for Rita and Michael's wedding, despite promising Michael to do nothing of the sort. ("The Ocean Walker")
G.O.B. films a film for Tobias'
Graft Versus Host
condition and later helps Michael attempt to break into the prison during the fundraiser dinner.
("

Prison Break-In

")
G.O.B. and Steve Holt build a
Banana Shack
to launder Colombian pesos for the
Bluth Company
.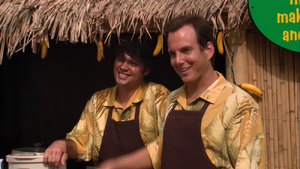 Michael realizes their father has pitted them against each other so they join forces to teach him a lesson, and actually succeed.
("

Making a Stand

")
G.O.B. accidentally works an entire lunch as a waiter at the country club and grows to like the showmanship and tips. He serves food at the "Save Our Bluths" dinner.
("

S.O.B.s

")
G.O.B. is proud to get Franklin into the system and listed as a witness in George's upcoming trial. Michael records Wayne Jarvis bribing him on a tape inside of Franklin which is used to have the Mock Trial with J. Reinhold case to be called a mistrial. ("Fakin' It") G.O.B. and Franklin become pimps for Nellie. ("Family Ties") G.O.B. visits Iraq on behalf of George to burn some houses down but is arrested. He is rescued by Buster and Michael and the three discover evidence to free George Bluth permanently. ("Exit Strategy") At the exoneration party, G.O.B. attempts to hit on Lindsay after discovering she is not his biological sister. ("Development Arrested")
Season four
G.O.B. will appear in Season Four, and we know he'll be as magical as ever.
Relationships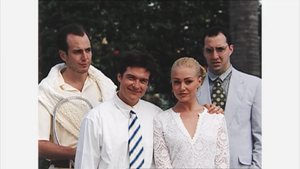 George Bluth paid little attention to G.O.B. as a child and has no respect for him as an adult. G.O.B.'s mother Lucille openly loathes him. On several occasions, G.O.B. and Michael realized that their rivalry has been nurtured by their father and mother's manipulations. They actually kinda like each other as brothers when they aren't at each other's throats. Michael is always afraid that G.O.B.'s antics will rub off on George Michael.
G.O.B. has always acted like a bully to his younger brother Buster because he didn't respect him. Buster eventually earned his respect on a construction site. ("Staff Infection") This didn't entirely stop G.O.B. from mocking him.
G.O.B. and Tobias operate on different wavelengths but they often teamed up hoping the other would help them obtain money/attention/fame because they both hold disillusioned views of the world. Although her older brother, G.O.B. rarely talks with Lindsay unless he is jealous of her and he wants to be better than her at something. He also rarely talks with Maeby
Trivia
Images
→ See and enjoy 656 pictures of G.O.B. at Images of G.O.B..