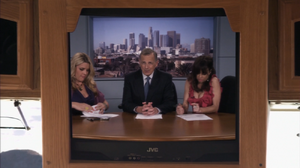 Good News O.C. with John, Jackie, and Joan is an Orange County morning talk show where John Beard gets a job after quitting his anchor job at FOX 6. While attempting to give a news story about the continual real estate market collapse John was heckled by Jackie and Joan and quit. George Bluth watched the news in his RV. ("Borderline Personalities")
Ad blocker interference detected!
Wikia is a free-to-use site that makes money from advertising. We have a modified experience for viewers using ad blockers

Wikia is not accessible if you've made further modifications. Remove the custom ad blocker rule(s) and the page will load as expected.