Jan Eagleman is a TV show producer running Mock Trial with J. Reinhold. She helps the Bluth family with a mock trial.
Character history
Season three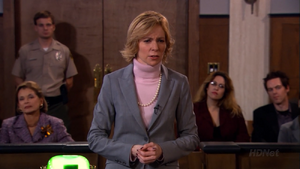 Michael meets with Jan to use Judge Reinhold as a practice run for his family's legal defense. Judge Reinhold mentions to Jan that he doesn't like the name of the show and wants to rename it Mr. Reinhold's Courtroom, but Jan is upset that they already printed several "my name is Judge" talking magazine ads.
During the mock trail on the newly retitled Mock Trial with J. Reinhold Jan acts as prosecutor against George Bluth. When Michael manages to get the case called as a mistrial, Jan congratulates him. ("Fakin' It")
Images
→ See 4 pictures of Jan Eagleman at Images of Jan Eagleman.
Appearances
Season One
—
Season Two
—
Season Three
"Fakin' It"
Season Four
—
Season Five
—
Ad blocker interference detected!
Wikia is a free-to-use site that makes money from advertising. We have a modified experience for viewers using ad blockers

Wikia is not accessible if you've made further modifications. Remove the custom ad blocker rule(s) and the page will load as expected.