Jim Cramer is the host for the real-world business show Mad Money. He played himself in three episodes of Arrested Development.
Character history
Season three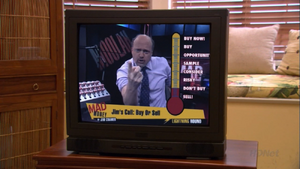 Michael watches Mad Money and is thrilled when Jim bumped the Bluth Company up from "Sell" to "Don't Buy". ("The Cabin Show") He is equally excited a few months later when Jim bumps them from "Don't Buy" to "Risky". The Bluth Company employees throw a party and hang a "Risky Business" banner to celebrate, and several members of the Bluth family decide to cash out their stock. ("Development Arrested")
Season four
Jim Cramer gives Fakeblock a 'hypothetical buy' after Maeby talks to him. She knew him previously because he was in Gangie IV. ("Señoritis")
See also
Appearances
Ad blocker interference detected!
Wikia is a free-to-use site that makes money from advertising. We have a modified experience for viewers using ad blockers

Wikia is not accessible if you've made further modifications. Remove the custom ad blocker rule(s) and the page will load as expected.