"Professor" John Munch teaches Tobias Fünke a scrapbooking class in a con hoping to get Bluth family secrets out of him.
Detective John Munch, portrayed by Richard Belzer, first appeared in television in 1993's Homicide: Life on the Street and was a regular on Law & Order: SVU. The character has appeared in episodes of over ten TV series including The Beat, The Wire, The X-Files, and Law & Order. As Homicide: Life on the Street, The Beat and St. Elsewhere are all connected, Arrested Development takes place in the same universe despite Oz being mentioned as a fictional show in "Visiting Ours" [when it is revealed that George Michael had been scared of prison since he accidentally watched it as a young boy].
Character history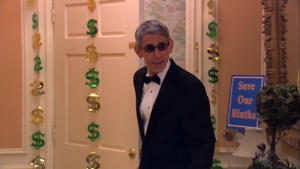 Season three
Munch appears at the Bluth family's "S.O.B.s" party. ("S.O.B.s")
He later led a fake scrapbooking class that Tobias took. The class was a sting CIA operation to elicit family secrets about the Bluth family. ("Exit Strategy")
Images
→ See 5 pictures of John Munch at Images of John Munch.
Character appearances
Ad blocker interference detected!
Wikia is a free-to-use site that makes money from advertising. We have a modified experience for viewers using ad blockers

Wikia is not accessible if you've made further modifications. Remove the custom ad blocker rule(s) and the page will load as expected.