Les Cousins Dangereux (translated as 'Dangerous Cousins') is a French film that George Michael becomes interested in. It is about two cousins forced to hide their incestuous love for one another because it is forbidden. The film was directed by Francois and Gerard Sauterne, who would go on to direct Junk. ("The One Where They Build a House")
Trailer
Trailer narrator: It was a love between two cousins that the world thought was wrong, but it was the world that was wrong...  
From "My Mother, the Car"
About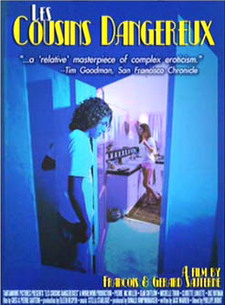 Maeby and George Michael watch the trailer at the movie theatre. George Michael attempts to obtain fake passports from G.O.B. to see the R-rated movie and asked for his passport to be French because he "likes the way they think". George Michael and Maeby go to see the movie but quickly leave the theatre because they believe the usher has pinpointed them for being underage. ("My Mother, the Car")
The film was later remade by Maeby Fünke as Almost Cousins for American audiences. While the original received great critical praise (one quote on the poster calls it "a 'relative' masterpiece of complex eroticism"), the remake proved to not be as inspired, trying to circumvent controversy by explaining that the lead actors might not be cousins. This action caused the film to lose much of the complex eroticism of the original and was cut down to a length of only 52 minutes. It did, however, receive some commercial success when religious groups protesting the film's themes inadvertently drew curious viewers into theaters. ("Righteous Brothers")
It is revealed that George Michael is still obsessed with the movie when his "Fun and Failure" poster is torn down by Michael to reveal a poster for Les Cousins. ("Mr. F")
Images
Ad blocker interference detected!
Wikia is a free-to-use site that makes money from advertising. We have a modified experience for viewers using ad blockers

Wikia is not accessible if you've made further modifications. Remove the custom ad blocker rule(s) and the page will load as expected.