Ad blocker interference detected!
Wikia is a free-to-use site that makes money from advertising. We have a modified experience for viewers using ad blockers

Wikia is not accessible if you've made further modifications. Remove the custom ad blocker rule(s) and the page will load as expected.
Even if it means taking a chubby, I will suck it up!
Series creator Hurwitz is re-editing
Season Four
in chronological order. Why?
There's no I in Teamocil, at least not where you'd think!
Four more years! Four more years!
The 15-episode season premiered in entirety on
Netflix
on May 26, 2013. Over 8 hours of pure Bluth mayhem.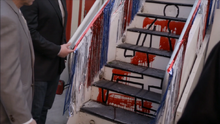 I'm a monster!
Every member of the Bluth family has motive for
Lucille Austero
's disappearance. What actually happened to her?
About Arrested Development
Arrested Development
is a ground-breaking sitcom that originally aired 53
episodes
over three
seasons
from November 2, 2003 to February 10, 2006 on
FOX
. Since cancellation it has developed a cult following and its popularity has grown - a
fourth season
was recently released and a
film
is tentatively planned.
The series follows family man Michael Bluth as he tries to keep his family and business from collapsing after his father George is sent to prison for embezzling money. As the family adjusts from riches to rags Michael helps his mother Lucille keep up appearances, sister Lindsay and brother-in-law Tobias with their failed marriage, son George Michael and niece Maeby through adolescence, and brothers Buster and G.O.B. adjust to working life.
Never seen Arrested Development? We've compiled a First Time Viewer's Guide to Arrested Development so you can see what the hype is all about before you dive in.
We recommend you watch every episode in broadcast order from "Pilot" to "Blockheads". Each episode builds on the last and paying attention to the details will only further your enjoyment.
5/18/16 - Series creator Mitch Hurwitz says that Season Five is "definitely going to happen". (Source)
12/11/15 - Ron Howard says that writing for Season Five is underway.
7/28/15 - Netflix Chief Content Officer Ted Sarandos comments that Season Five negotiations with Fox and scheduling with the actors is "chugging along".
The Arrested Development Wiki was started in February 2007 by fans just like you who love everything about this hilarious gem of television.
We're building up episode guides, quotes lists, and image and video galleries to celebrate the fantastic show that was cut too short. Check out Community Page for some quick pointers! There's always more to do :)
Forum Activity