Founder Earl Milford:
Children should be neither seen nor heard
The Milford School is an institution that various members of the Bluth Family have attended.
Students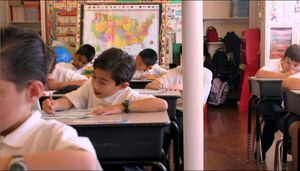 Buster
Buster enjoyed the Milford School so much that he managed to stay there three years after his graduation. He used his blending techniques that he learned at Milford to hide from public view when Jessie suggested he do so. ("Public Relations")
George Michael
George Michael was never a student at the Milford School, but Michael Bluth was pushing to get him in. He rejected due to the Bluth Family's poor publicity, notably a recent fight between Lucille and Lindsay at a Klimpy's. Michael hired Jessie to clean up the family's image in the hopes of getting George Michael accepted, but he eventually told his father that he was not interested in attending, so Michael dropped his pursuit. ("Public Relations")
Annyong
Lucille sends Annyong to the Milford school to teach him a lesson, which she later forgot what that lesson was.
Quotes
Trivia
Throughout the first season of Arrested Development, the Milford School is erroneously labelled the "Milford Academy", which is in fact the real name of a post secondary preparatory school for athletes who are preparing to enter college. The real Milford Academy is located in New Berlin, CT but originally founded in Milford, CT.
Images