Mitchell Hurwitz
Talk

0
569pages on
this wiki
Mitchell Hurwitz


Profession
Writer, Executive Producer
 
 
Mitchell Hurwitz is the creator of Arrested Development. He served as Executive Producer and wrote 14 episodes.
Biography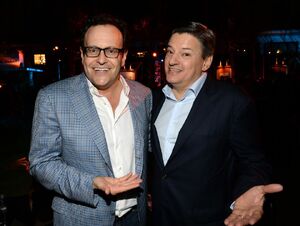 Mitchell was born in 1976 in Anaheim, California. He graduated from Estancia High School in Costa Mesa, CA, and from Georgetown University in 1985 with a double major in English and Theology.
In the late '80s Hurwitz moved in Hollywood and began working as a writer and producer in sitcoms. Among other shows, he wrote 9 episodes and produced 24 episodes of The Golden Girls, worked as executive producer and writer on both The John Larroquette Show and The Ellen Show and worked as consulting producer of Less Than Perfect. In 2002 Mitch was asked by Ron Howard to develop a sitcom about a disfunctional family and Arrested Development was the result.
Since the series' cancelation Mitch went on to write and produce Sit Down, Shut Up, Running Wilde, as well as producing a handful of other shows. He is involved in the series resurrection and will be an executive producer and writer of Season Four and the movie.
Mitchell was married to Mary Jo Keenan in 1999 and the two have two daughters.
Trivia
Mitchell started a chocolate-chip cookie business with his older brother called "The Chipyard".
Awards
For Arrested Development
2004

Won "Outstanding Comedy Series" Emmy
Won "Outstanding Writing for a Comedy Series" Emmy
Won TV Guide Channel's Future Classic Award

2005

Won "Outstanding Writing for a Comedy Series" Emmy
Nominated for "Outstanding Comedy Series" Emmy
Won Writers Guild of America Award
Won Golden Nymph award at Monte-Carlo TV Festival

2006

Nominated for "Television Producer of the Year Award in Episodic Comedy" at the PGA Awards
Nominated for "Best Comedy Series" at the WGA awards
Nominated for "Outstanding Comedy Series" Emmy
Nominated for "Outstanding Writing for a Comedy Series" Emmy

2007

Nominated for "Television Producer of the Year Award in Episodic Comedy" at the PGA Awards
Nominated for "Best Comedy Series" at the WGA awards
Episodes Written
See also