Mort Meyers
Talk

0
560pages on
this wiki
Mort Meyers is a Tantamount Studios executive that works with Maeby. Although he does have a wife, Mort often hits on Maeby, believing that she is older than she really is.
Mort is portrayed by Jeff Garlin and appears in seven episodes over Seasons Two and Three. He was last seen pitching a movie about the Bluth family to Ron Howard in "Development Arrested" and will appear in Season Four.
Character history
Season two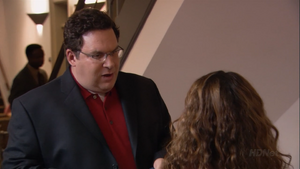 Tobias spreads the name "Fünke" around Tantamount Studios, hoping the hype will help him land the role of "Confidence Man #2". When he comes to audition in front of Mort, he says his name is Tobias (forgetting to include "Fünke") and Mort passes on him because he is too short. Mort then runs into Maeby Fünke in the hallway and thinks she is the "Fünke" everyone has been talking about and fast-tracks her The Young Man and the Beach film. ("Switch Hitter")
Maeby returns to Tantamount Studios and Mort flirts with her until Maeby brings up his wife. ("Queen for a Day") Mort threatens Maeby's job unless she fixes the script for The Young Man and the Beach so he sends her on assignment to Spring Break. ("Spring Breakout") Mort fires the entire staff behind Almost Cousins and leaves Maeby in charge of cutting it down to fix it. ("Righteous Brothers")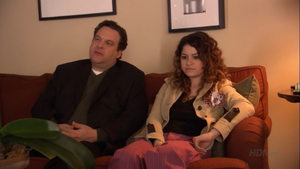 Season three
After Love, Indubitably fails at the box office, Maeby pitches to Mort that the Hell Tunnel on the Tantamount Studios Tour be turned into the Tunnel of Love, Indubitably. ("Mr. F") Mort challenges Maeby to fix a floundering horror movie, so she uses an image of her grandmother post-skin peel as the basis of the monster in Gangee, which Mort fast-tracks a sequel. ("Making a Stand")
After Maeby was fired for only being 16 years old, Mort was excited to be able to shop her family story around to be made into a TV series. When they pitched it to Ron Howard, he suggested a movie. ("Development Arrested")
Season four
Mort will appear in Season Four.
Images
→ See and enjoy 14 pictures of Mort Meyers at Images of Mort Meyers.
Appearances