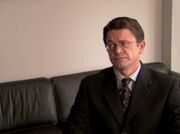 The
USA PATRIOT ACT of 2001
(referred to simply as the
Patriot Act
) is a law of the U.S. federal government aimed at aiding counter-terrorism efforts by lessening restrictions on information gathering and financial monitoring by domestic law enforcement.
The law is often cited in a frank manner by government agents who deal with the Bluth family to justify seemingly gross overreaches of authority.
Appearances
Michael: I'm sorry, I don't understand how this is not a conflict of interest. I mean, you almost represented us, and now you're the prosecutor?
Wayne Jarvis: The Patriot Act. Read it.  
From "Sad Sack"
Wayne Jarvis: Read the Patriot Act: "Anything said in a mock trial or daytime courtroom show can be used in any real criminal proceeding, or prime-time procedural show, subject to the interpretation of the presiding judge, or the executive producer."  
From "Fakin' It"
CIA File on George Sr.: Operative contacted to build housing in the country of Iraq for the purpose of extracting information within the confines of laws regarding the Patriot Act. Housing was built and prepared for surveillance with American Operatives. / Information extracted from surveillance devices has been retrieved and secured to be used as evidence in whatever case the United States government deems fit. / Operative Bluth cooperated fully with American and Iraqi agents believing them to be British Home Builders. / Normal activity was observed regarding business procedures that are in accord with U.S. business practices. O. Bluth was later suspected of treason however will be absolved of all guilt commencing the completion of Operation Hammad. / Evidence for Bluth file BT333 can be found in section 3 of the International Trade section of the Patriot Act files. / Bluth is currently aware he was utilized as a patsy for the government, not unlike every U.S. citizen. This is largely due to the Patriot Act as well.  
From "Exit Strategy"