Perfecto Telles is Lucille Austero's adopted son to appeal to the Hispanic community. In high school, he dates Maeby Fünke.
Perfecto Telles unknowingly has the same name as the man arrested for engaging in a sex act in a public bathroom in 1974, George Maharis and Perfecto Telles.
Character history
Edit
Season four
Edit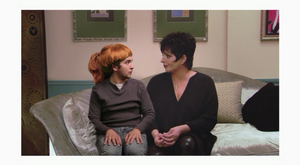 Perfecto was adopted by Lucille Austero during her Congressional campaign as an attempt to appeal to Hispanic voters. (4x2 — "Borderline Personalities") (4x8 — "Red Hairing")
He attended High school with Maeby (during her fifth senior year) and the two began dating. When Maeby thought she discovered he was an undercover cop, she approached him and he told her he was investigating a drug cartel. She then planned to seduce so she would have something to blackmail him with if he discovered she was older than 21, but her plan backfired as he was just lying about being a cop and was actually 17. Maeby was then arrested for being a sexual predator. (4x12 — "Señoritis")
At Cinco de Cuatro, Maeby asked Perfecto to take care of Herbert Love, who was being "a bully" to her (by paying Lindsay directed for her prostitution services rendered, rather than paying Maeby.) (4x12 — "Señoritis") Perfecto then asked Buster, an honorary Anti-Bullying League member, to take care of Love. (4x14 — "Off the Hook")
→ See 17 pictures of Perfecto Telles at Images of Perfecto Telles.
Appearances
Edit