Dr. Phil Gunty is a marriage counselor in the Newport Beach area of Orange County.
Character history
Season one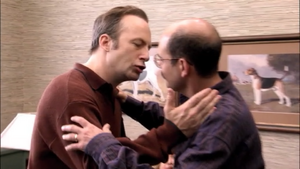 When Lindsay and Tobias recognize that they are undergoing marital problems they visit Dr. Gunty. Lindsay complains about Tobias' obsession with acting, to which Dr. Gunty suggests role playing. He and Tobias role play as Lindsay and Tobias and nearly kiss.
Dr. Gunty later expresses that he is leaving his counseling practice to pursue acting. ("Visiting Ours")
Trivia
Ad blocker interference detected!
Wikia is a free-to-use site that makes money from advertising. We have a modified experience for viewers using ad blockers

Wikia is not accessible if you've made further modifications. Remove the custom ad blocker rule(s) and the page will load as expected.