"Red Hairing" is the eighth episode of Arrested Development's fourth season.
Lindsay continues to push away from being a Bluth by embracing a relationship and finding a new career.
Synopsis
After cutting her hair and changing her lifestyle with Marky Bark, Lindsay and Marky leave the ostrich farm and move into Balboa Towers with Cindy the Ostrich. While Lindsay sneaks away to spend time with Lucille Austero and enjoy fashion, Marky builds a glitter bomb to destroy Herbert Love's campaign. After finding a check titled Gangee 4: Facelift Lindsay approaches her mother on the prison tennis court who tells her that Lindsay is more like her than she thinks. Lindsay returns home and agrees to help Marky with the glitter bomb. 

At Love's fundraiser dinner, Lindsay gives the $50,000 check to George (who, in turn, gives it to Love to support building the wall). She also runs into Maeby who finds respect for her mother's glitter bomb ploy. Lindsay loses track of time flirting with Herbert Love (not knowing it was him) and forgets to let Marky out of the podium (which was wedged shut by G.O.B.). The glitter bomb explodes and Marky is arrested. She get's Love's phone number, which Maeby witnesses, causing her to call her mother a whore.
After discovering Marky's charges have been upgraded to "non-Arab terrorism" in Orange County Prison, a dejected Lindsay visits Maeby at the model home and Maeby offers to call Love on her behalf. She meets him for dinner at The Ealing Club where she runs into Michael who (on behalf of George) asks her to get Love to oppose the wall project and in return Michael promises to have Stefan Gentles let Marky out of prison. In a hotel room, Herbert and Lindsay make love and Lindsay starts to think Herbert is the man her Indian shaman foresaw in her future.
They continue to sleep together for a few weeks in Love's limo until a date at the Balboa Club where she and Love run into Michael and Rebel. The very liberal Rebel and very conservative Love argue politics over dinner while Michael attempts to keep Herbert's approval. Herbert leaves to go home to his wife and Michael receives a call for his son, who wants to hang out but Michael blows him off. Outside the club, Lindsay reunites with the newly freed Marky who tells her of his next plan: to paint bomb Love at his Cinco de Cuatro speech.
The next day at Cinco de Cuatro Lindsay is broken off by Herbert Love and David. She is handed a wad of cash for services rendered and she is unable to throw it in his face. She then runs into her mother who insults her for being a hooker and also tells her that no matter how hard she resists, Lindsay is a Bluth at heart. Lindsay then asks Lucille Austero if she can be her campaign manager but Sally Sitwell has already taken the position. Sally shows Lindsay photos of her and Love and Lindsay realizes she needs to get ahead of the news story before she is forever known as a hooker. Love goes missing so David asks Lindsay to hold the audience and Lindsay prepares to admit she was sexually harassed by Love. Instead, the revelers upset her so she starts chanting to build the wall. When Love is found to be in a coma, David asks her to take his place on the ticket.
Epilogue
Herbert Love is discovered in a coma, David tells Lindsay he may not come out of the coma for ten years. David then asks Lindsay if she "would consider running in his place" in the election. Before David can complete the question, Lindsay says yes.
Appearances
Main Cast
Recurring
Guest
Jess Rowland as Derrin the guard
Jill Donnelly as Ealing Club hostess
Elise Robertson as Scarlet Letterman
Aimee Shyn as Reveler
Recurring themes
Nat King Cole - Marky and Lindsay think a picture of Nat King Cole is Herbert Love
Hillary Clinton - Lindsay wears Hillary Clinton hair in the last scene.
Captain and Tennille - When Lucille Austero gives Lindsay the orange wig she says "I used to wear that with the captain, and I was..." Lindsay then responds with "Tennille?". Lucille then says "... and not make eye contact. Yes!". This misconception occurs becuause of a play on words. Lucille thought Lindsay said "To kneel" not "Tennille", as in the recording artist. What Lucille meant was that she had to kneel and not make eye contact with whoever her captain was. We find out later that the 'captain' in this scenario is Buster, when in episode 14, Ophelia Love shows Buster the picture of Herbert and Lindsay (who was wearing the orange wig whenever she was with Love) to which he responds: "I've worn a captain's hat with someone who had hair like that!".
Callbacks/Running Jokes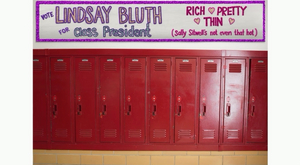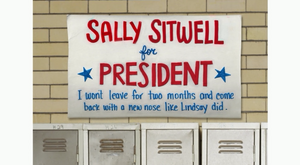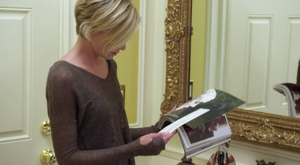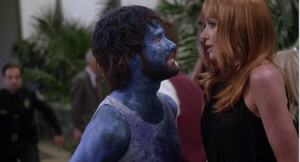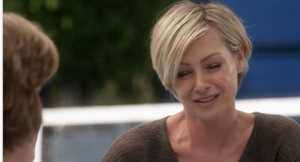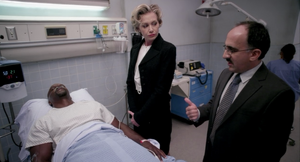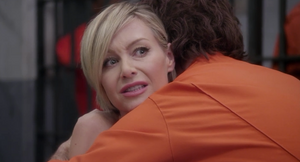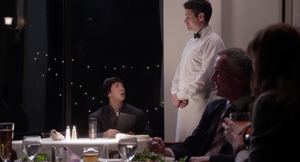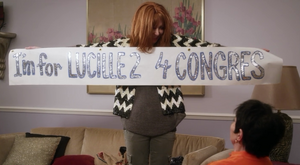 Lemonade - While in a hammock in Mexico, Lindsay says she'd pay $20,000 for a glass of lemonade, a nod to George's business in "Borderline Personalities".
Sedated animals - Lindsay and Marky find an iguana that has been sedated, probably by Dr. Norman.
Contradicting the narrator - The narrator starts to say that Lindsay will never forgive herself for missing her mother's trial, but is interrupted before he can finish by Lindsay telling Marky they can take over Lucille's penthouse. This is one of several instances in season four where the narrator starts to state how a character will react only to be interrupted in mid-sentence by them saying something that contradicts him.
Banners -

Lindsay makes a "I'm for Lucille 2 for Congres" banner on the back of Lucille's "You're Killing Me, Buster" banner from "¡Amigos!"
In a high school class president election, Lindsay hangs a banner that reads: "Vote Lindsay Bluth for Class President. Rich. Pretty. Thin. (Sally Sitwell's not even that hot.)"
In the same election, Sally won by hanging a banner that read "Sally Sitwell for President. I Won't Leave For Two Months and Come Back With a New Nose Like Lindsay Did."

High school election - Lindsay ran for class president in 1982. G.O.B. and Michael ran against each other for student body president in high school, as mentioned in  "The Immaculate Election".
True Kin -

Both Michael and Lindsay lost their high school class president elections.
Maeby uses the same "I should have known you'd be supporting this right-wing dangerous crackpot" line on meeting her mother at the fundraiser that Lindsay said on meeting George there in "Double Crossers". Shortly after, Lindsay tweaks and then considers Maeby's nose as George did with hers.

Neiman's - Lindsay finds a Neiman's catelog in Balboa Towers. She went shopping at Neimans in "Bringing Up Buster" and "My Mother, the Car".
Gangee - A check from Maeby's movie is found at Balboa Towers. Maeby used to use that address to fool Tantamount Studios.
Facelift - The check that Lindsay thought was for a facelift for Maeby from Lucille but was actually a check from Gangie 4: Facelift for Maeby.
Lindsay's nose - A flashback to June 2, 1983 shows Lucille writing a check for $3,000 for Lindsay's nose surgery, which she spruces up by writing "a new nosey".
Gene Parmesan - Lindsay says "so you figured it out, Gene Parmesan" to Lucille at the tennis courts.
"Get this - Beverly Hills"- Narrator says "Get this - Beverly Hills" when Lindsay and Marky arrive at Love's convention's hotel.
Shrimp - Shortly after meeting her father when they both go to steal some coconut shrimp at the fundraiser, Lindsay runs into Maeby also stealing some.
Tobias is black - Love reminds Lindsay of Tobias when they started dating.
Mrs. Featherbottom - Lindsay gives the fake name "Cindy Featherbottom" to Love.
Bad fake name - Lindsay gives the name "Cindy Featherbottom", following in Michael's footsteps of giving Chareth Cutestory to Maggie in "Altar Egos".
Blue Man Group - Marky Bark is covered in blue paint and cutoffs, reminding Lindsay of Tobias.
"Certainly have a type" - Maeby jokes that Lindsay's type is blue men. Michael jokes that Buster has "a type" in "Forget-Me-Now" as did G.O.B. about Michael in "Shock and Aww".
Bizarre charges - Marky is charged with "non-Arab terrorism" similar to how George was charged with "light treason".
ANUSTART - While visiting Marky in prison, Tobias is called by ANUSTART
"No touching!" - A prison guard yells "no touching!" at Marky and Lindsay.
Tracey Bluth - George and Michael talk about Tracey Bluth.
Finish each other's sandwiches - Herbert finishes Lindsay's sentence with "sandwiches", as Lindsay did to Michael in "Family Ties".
Jewlery box snap - Love snaps the jewlery box on Lindsay's fingers, as Trevor did to Rita in "Mr. F".
Photobooth - Lindsay and Love made love in a photobooth, as George Michael and Michael do separately with Rebel.
Coma - Love falls into a real coma. Buster fell into a fake coma in "Fakin' It".
Annyong - Annyong tries to stick it to the Bluths by using the Balboa Club membership, but is made responsible for the large bill and is deported. The narrator says "Goodbye, Annyong," a pun on his name.
Chant - Lindsay and The crowd at Cinco de Cuatro chant the words "put up this wall, put up this wall" the same way the Bluth employees chanted "don't buy, don't buy" in "The Cabin Show" and "Speech" in "Marta Complex".
Hidden/Background Jokes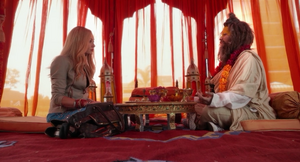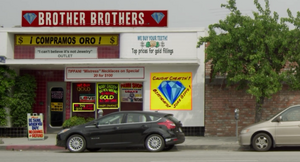 "Shrill feathered creature" - The narrator jokes that both Lucille 2 and Cindy the ostrich are shrill feathered creatures.
"Congistitutes" - Love sees some beautiful women and tells Lindsay he has to go see his "congistitutes", maybe prostitutes.
Music - When Lindsay remembers her shaman saying "happiness is when love is near" and she draws a connection to Herbert Love, the music sings "coincidence!" as it first did in "Indian Takers",
Brother Brothers - Love got Lindsay's necklace at Brother Brothers pawn shop.
Good News O.C. with John, Joan, and Jackie - John Beard's gas station news network plays at a pump when the limo montage is shown.
Foreshadowing/Future References
Lindsay is a true Bluth -

Lindsay says "I'd give $20,000 for a lemonade right now" like George did in "Borderline Personalities".
Lucille says "The apple does not far from the tree fall" and Lindsay replies "I am like you nothing".
Lindsay pinches Maeby's nose similar to how George Sr. pinches Lindsay's nose in "Double Crossers"
Lindsay starts making puns ("Blue in the face" and "Sink-o"/"Cinco"). This season, Lucille often makes puns and points out when she does.
At Cinco de Quatro, Lucille tells Lindsay, "I'm a Bluth and so are you."

Perfecto Telles - A still image of Lucille 2's adopted son Perfecto is seen, wearing the red wig.
Election - Sally and Lindsay campaigned against each other for Class President in 1982. In 2013 the campaign against each other for a seat in congress.
"High end hooker" - Before Lindsay actually becomes a hooker, Lucille calls her a high end hooker.
Sally has alopecia - Lucille 2 compliments Sally's long hair.
Love's coma - Love disappears and is next seen in a coma.
Quotes
→ See more quotes from "Red Hairing" at Transcript of Red Hairing.
Lucille: The apple does not far from the tree fall.
Lindsay: I am like you nothing.
Lindsay: Oh God, he blued himself. 
Marky Bark: They're upping my charges from prank bomb to non-Arab terrorism.
Michael: She's Tracey.
George: Fat Tracey or thin Tracey at the end?
Lindsay: How is she more qualified than me?
Lucille 2: She has integrity. And look at this hair. Look at this beautiful long hair.
Notes
Promotional Photos
→ See 160 pictures from Red Hairing at Images from Red Hairing.
Behind the Scenes
External Links
ANUSTART fan page based on the anustart running joke