The fourth season of Arrested Development premiered on Netflix in all regions on May 26, 2013 at 12:01am PDT.
The season has a slightly different format, consisting of 15 episodes with each episode predominantly focusing on one member of the Bluth family and what they have been doing since 2006. The first episode revolves around Michael who is the only character who appears in all 15 episodes.
Jason Bateman and Mitch Hurwitz prefer to call the group of episodes Act 1 of a three act story. At the end of the fifteen episodes, each character is in a predicament that will be solved in the as of yet non-greenlit Season Five or movie. Mitch Hurwitz is currently re-editing Season Four in chronological order in order to sell the next chapter of Arrested Development to 20th Century Fox Television.
Announcement
→ Arrested Development cast at The New Yorker Festival 2011 New Yorker Festival Reunion.
At the 2011 New Yorker Festival Reunion on October 2, 2011, Mitch Hurwitz and the cast announced plans to do a mini season leading up to the movie. Jason Bateman confirmed on Twitter:
Production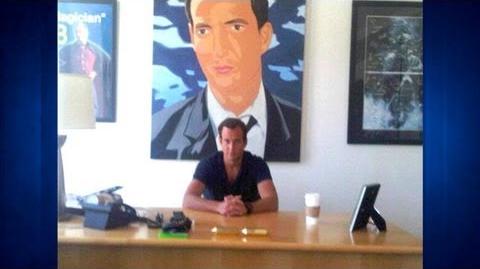 → See and learn more information about Season Four at Season Four production.
Season Four was in pre-production and production through most of 2012 and post-production in 2013 before its May 26, 2013 release. Production worked differently than on previous seasons because they did not have exclusive access to the entire cast, so all episodes were written in advance and production worked around each actor's schedule. Re-writing happened on the fly due to the complexity of the story and demanding shooting schedule.
Green screens and body doubles were used to simulate conversations between characters whose actors were not available at the same time.
Marketing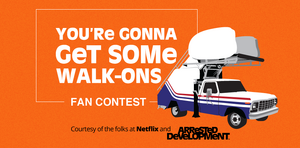 → See and enjoy more Season Four pictures at Season Four marketing.
Starting with the announcement of the May 26, 2013 premiere date on April 4 Netflix began their Season Four marketing campaigns. They utilized both traditional marketing techniques (billboards and posters) as well as modern and viral marketing such as YouTube fan made videos and engagement via their official Facebook page and @ArrestedDev Twitter account. The social media accounts encouraged fans to participate in "Bananathon", a marathon re-watch of the first three seasons over three weeks.
The social media accounts and Entertainment Weekly revealed posters and images over the month of April, and the first public footage of the new season was released on April 26, 2013. The first trailer was released on May 12, 2013 revealing some minor spoilers about the new batch of episodes. Teaser posters were released on April 10, 2013, and the character posters were revealed on April 24. Character portraits were released on May 1.
Story
→ Read the in-depth Season Four timeline at Season Four timeline.
Season Four follows each member of the Bluth family from February 2006 to May 2012. Michael tries to form his own Michael B. Company but the real estate market collapse forces him to abandon Sudden Valley and move in with his son at UC Irvine. (4x1 — "Flight of the Phoenix") George begins work on a US/Mexico wall but when the economy collapses he starts Father B.'s Colony instead. (4x2 — "Borderline Personalities") Lindsay visits India on a journey of spiritual enlightenment before buying a mansion with Tobias, whom she leaves to live a life of freedom with Marky Bark. (4x3 — "Indian Takers")
Michael, kicked out of the dorm room, works with Ron Howard to begin pre-production on the Untitled Michael B. Project film about his life. (4x4 — "The B. Team") Tobias shocked by allegations that he is gay decides to double-down on his acting career with the help of his new love DeBrie Bardeaux but ends up getting arrested instead. (4x5 — "A New Start") George bribes right-wing politician Herbert Love to start the wall project back up but begins to face identity issues of his own. (4x6 — "Double Crossers")
G.O.B. becomes engaged to Ann Veal before his Amazing Jesus illusion goes awry, leading him to join Mark Cherry's entourage. (4x7 — "Colony Collapse") Lindsay and Marky try to destroy Herbert Love's campaign but Lindsay falls into relationship with him. (4x8 — "Red Hairing") Tobias works at Austerity and directs Fantastic 4: An Action Musical to stay close to DeBrie. (4x9 — "Smashed")
Lucille is tried and sentenced for her maritime crimes and serves time at Orange County Correctional Facility L.I.T.E. and Austerity. (4x10 — "Queen B.") G.O.B. tries to sabotage Tony Wonder's career as the 'gay magician' by posing to be gay himself. (4x11 — "A New Attitude") Maeby juggles several jobs, including being a high school senior for nearly 5 years. (4x12 — "Señoritis")
George Michael goes off to college where his journey of self-discovery begins as he starts the software company Fakeblock. (4x13 — "It Gets Better") Buster struggles to find someone to take care of him and rejoins Army for a period of time, before he suffers from another accident. (4x14 — "Off the Hook") George Michael must come to terms that his company is based on lies, as is his relationship with Rebel Alley. (4x15 — "Blockheads")
Cast
Key: F: Focal character Character appeared (x: with lines | s: without lines) a: Archive footage
Main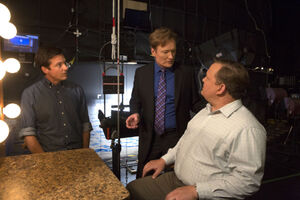 New Guest Cast
Returning Guest Cast
Awards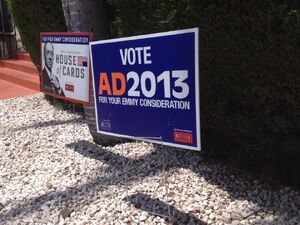 Main article: Awards & Nominations
On July 18, 2013 nominations for the Emmy awards were announced and Arrested Development's fourth season received three nominations: Jason Bateman for best lead comedic actor, best comedic editing for "Flight of the Phoenix" and best original score for "Flight of the Phoenix". Along with Netflix's other original series House of Cards and Hemlock Grove, Arrested had the distinction of being the first nominated program to premiere and be distributed online rather than on broadcast of cable TV. Arrested Development did not claim any of the awards.
Episodes
1 | 54
2 | 55
3 | 56
4 | 57
5 | 58
6 | 59
7 | 60
8 | 61
9 | 62
10 | 63
11 | 64
12 | 65
13 | 66
14 | 67
15 | 68
Format changes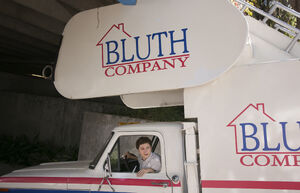 Unlike the previous three seasons, and in part to the technological opportunities Netflix brings to the table, Mitch Hurwitz and producers wrote, filmed, and edited all 15 episodes in a way that they could be watched in any order. Says David Cross of the new style:
Chronological re-edit
Main article: Season Four chronological re-edit
In May 2013, Mitch Hurwitz encouraged everyone to watch the 15 episodes in order. In October 2014 Hurwitz announced he was re-editing Season Four to be in chronological order. No further information on how it would be released or the scope of the re-edit was revealed, but he suggested it was primarily for Fox executives.
Main Theme and Intro Changes
Featuring new images and narration, the introduction to each episode of Season Four varies depending on which character the episode focuses on. The narration and captions depict the relationships to the episode's focal character (see Lindsay's below).
Each character has a specific instrument that plays along with the title music: Michael has a trumpet, George has a guitar, Lindsay has a sitar and guitar, Tobias has a saxophone and harp, G.O.B. has an electric guitar, Lucille has a violin, Maeby has scat vocals, George Michael has a wood block, and Buster has an accordion. Although "Blockheads" is a George Michael centric episode, all musical instruments are present.
Arrested Development Soundtrack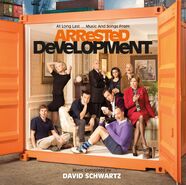 At Long Last... Music and Songs from Arrested Development is the official soundtrack for Arrested Development and was released in the UK on November 8, 2013 and in the US on November 19, 2013. The album contains 42 songs composed by David Schwartz featured over all four seasons of the series.
Several cast members assisted in the album. Will Arnett's vocals appear on "It Ain't Easy Being White". Jeffrey Tambor's vocals appear on "All You Need Is Smiles". David Cross and Portia de Rossi's vocals appear on "Teamocil".
DVD
Main article: Arrested Development DVDs
While Netflix held the exclusive broadcast rights during the initial release window, Fox owns the distribution rights to the series on other forms of media.
The complete fourth season DVD was made available for Region 2 on June 9, 2014, Region 4 on August 23, 2014, and Region 1 on December 16, 2014. A fan art contest hosted at arrestedfanart.com (won by Tennessee graphic designer Chad Malone) produced the Region 1 DVD artwork.
DVD special features include:
History of Arrested Development
Being Back on Arrested Development
The Writing and The Scripts
Working with Mitch
Working with Two Directors
Buster Smoking
Production Design – Get an inside look at how the sets were recreated for Season Four
Script Department – One-on-one interview with the script supervisor on how all the stories came together
Fantastic 4 – A behind-the-scenes look at Tobias' one of a kind "stage production"
In Character features on Tobias, Barry, Herbert Love, Rebel, Buster, George and Oscar, and Michael
Netflix Q&A Session - #AskAD
Main article: 2013 Arrested Development Q&A Sessions
As part of the Season Four marketing strategy, the cast of Arrested Development answered questions that were sent in by Arrested Development fans using the #AskAD Hashtag.
→ See 19 pictures from 2013 Netflix Ask AD at Images from 2013 Netflix Ask AD.
Season Five? Movie?
Main article: Season Five or a Movie?
Jason Bateman and Mitch Hurwitz have repeatedly said that Season Four is the first act in a three-act story, planned to be concluded in a feature film. Hurwitz has mentioned that he would be up for a fifth and sixth season in lieu of or in addition to the film. 
In March 2013, Hurwitz confirmed that there was no deal yet for the Arrested Development Movie but he was confident that he could pitch it to 20th Century Fox after the Season Four stress subsided. In early May 2013 Ted Sarandos confirmed that Netflix was open to pursuing additional seasons or films of Arrested Development if the right opportunity presented itself. On May 29, 2013 (three days after Season Four was released) Reed Hastings, CEO of Netflix, offered to buy more seasons of Arrested Development.[1] In late July 2013 Ted Sarandos and Hurwitz confirmed they are collaborating to continue the story of the Bluths. Hurwitz is currently favoring a film, for sake of production ease. In early June 2015 executive producer Brian Grazer announced a deal had been made and production would begin in January 2016.
As of June 2015 no official announcement had been made, but Hurwitz, Sarandos, and Brian Grazer continue to state a continuation of the story is still in the works.
Images
→ See and enjoy more Season Four pictures at Season Four marketing.
Promotional Photos
Character posters
Character portraits
Behind the Scenes
The cast and crew of Arrested Development often posted numerous selfies with other cast members, behind the scenes pictures and episode sneak peeks.
→ See 54 pictures from Season Four BTS at Images from Season Four BTS.
Videos
Season 4 Trailer
Episode Clips
Behind the scenes
→ See and enjoy more Arrested Development Behind the Scenes videos
Ad blocker interference detected!
Wikia is a free-to-use site that makes money from advertising. We have a modified experience for viewers using ad blockers

Wikia is not accessible if you've made further modifications. Remove the custom ad blocker rule(s) and the page will load as expected.