Ad blocker interference detected!
Wikia is a free-to-use site that makes money from advertising. We have a modified experience for viewers using ad blockers

Wikia is not accessible if you've made further modifications. Remove the custom ad blocker rule(s) and the page will load as expected.

The first season of Arrested Development aired on FOX from November 2, 2003 to June 6, 2004.
We meet the Bluth family who has problems with the law, with each other, and with society. Michael Bluth must make sure the family stays out of more trouble, while keeping them all happy. He must lead a family of his own, and he tries to find a wife. George Sr. is imprisoned for stealing from the Bluth Company, and his wife Lucille must live without, which turns out to be easy. Lindsay and Tobias begin to notice marital problems when they move back to California. George Michael and his cousin Maeby are reunited, but they go through teenage emotions. Buster is awkward, like always, and ultimately relies upon Lucille 2 for companionship.
Main
Recurring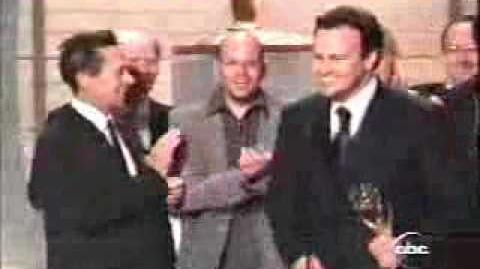 The show won five Emmy Awards in 2004:
"Outstanding Comedy Series"
"Outstanding Directing for a Comedy Series"
"Outstanding Casting for a Comedy Series"
"Outstanding Writing for a Comedy Series,"
"Outstanding Single-Camera Picture Editing for a Comedy Series"
The show also received:
The 2004 TV Land Award for "Future Classic"
The Television Critics Association 2004 Awards for "Outstanding Comedy" and "Outstanding New Program"
The 2004 Writers Guild of America Award for best teleplay in an episodic comedy for the episode "Pier Pressure," written by Mitchell Hurwitz and Jim Vallely.
In 2004, the Golden Satellite Award for "Best Television Series, Comedy or Musical," along with best performance by an actor/actress in a supporting role, comedy or musical awards for Jeffrey Tambor and Jessica Walter.
1 | 1
2 | 2
3 | 3
4 | 4
5 | 5
6 | 6
7 | 7
8 | 8
9 | 9
10 | 10
11 | 11
12 | 12
13 | 13
14 | 14
15 | 15
16 | 16
17 | 17
18 | 18
19 | 19
20 | 20
21 | 21
22 | 22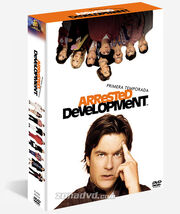 The DVD was released October 19, 2004. It included all 22 episodes, plus the extended pilot. Special features included:
"Breaking Ground: Behind the Scenes of Arrested Development" featurette
Ron Howard's inside look at Arrested Development
The Museum of Television & Radio cast panel discussion
Original songs by David Schwartz
"Arrested Development: The Making of a Future Classic" TV Land featurette
"TV Land Awards: The Future Classic Award" featurette
Promo spot
External Links
Edit