Ad blocker interference detected!
Wikia is a free-to-use site that makes money from advertising. We have a modified experience for viewers using ad blockers

Wikia is not accessible if you've made further modifications. Remove the custom ad blocker rule(s) and the page will load as expected.

The third season of Arrested Development aired between September 19, 2005 and February 10, 2006 on FOX.
George Sr. is in house arrest in the apartment, and he itches to escape again. The Bluths learn many secrets about their family, but ultimately prove they are disaster prone. In the end, Buster falls in love and becomes the family's hero, and Michael and George Michael attempt to leave the family behind them.
Main
The show received four 2006 Emmy nominations:
The show also has a spot on Time Magazine's 100 Greatest Shows of All Time.
1 | 41
2 | 42
3 | 43
4 | 44
5 | 45
6 | 46
7 | 47
8 | 48
9 | 49
10 | 50
11 | 51
12 | 52
13 | 53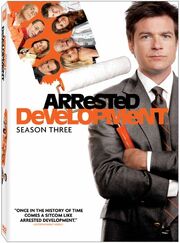 Main article: Arrested Development DVDs
The two disk DVD was released on 2006-08-29. Special features include:
Character Portraits
Edit