Ad blocker interference detected!
Wikia is a free-to-use site that makes money from advertising. We have a modified experience for viewers using ad blockers

Wikia is not accessible if you've made further modifications. Remove the custom ad blocker rule(s) and the page will load as expected.

The second season of Arrested Development aired between November 7, 2004 and April 17, 2005 on FOX.
After George Sr. escapes from prison to Mexico, Michael swears to leave the family forever. However, he decides to stay and the family gets even more out of control. Buster joins the army and loses a hand. Tobias goes to work for the Blue Man Group. Michael continues to keep his sanity, and his family together at the same time.
Main
In 2005, the second season brought eleven Emmy nominations in seven categories and one win, for "Outstanding Writing for a Comedy Series" for the season finale "Righteous Brothers," written by Mitchell Hurwitz and Jim Vallely.
The 2005 Golden Globe Award for "Best Performance by an Actor in a Television Series - Musical or Comedy" for Jason Bateman.
For her role as Maeby Fünke, Alia Shawkat won a Young Artist Award in 2005.
1 | 23
2 | 24
3 | 25
4 | 26
5 | 27
6 | 28
7 | 29
8 | 30
9 | 31
10 | 32
11 | 33
12 | 34
13 | 35
14 | 36
15 | 37
16 | 38
17 | 39
18 | 40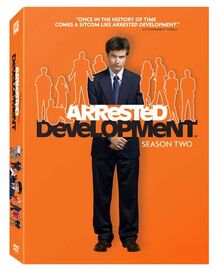 Main article: Arrested Development DVDs
The three disc set was released on October 11, 2005. Special Features include: