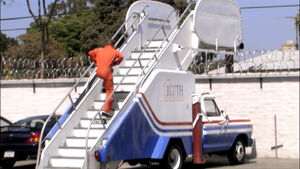 Michael Bluth:
Watch out for bridges and hop-ons; you're gonna get some hop-ons
The stair car is one of the few remaining modes of transport available to the Bluth family, and is frequently driven by Michael Bluth.
It was originally paired with the company jet, which was sold off to help deal with the company's financial woes. It has a large Bluth Company logo on the side.
It has lead a notorious existence, knocking down homecoming banners, ("Queen for a Day") helping inmates attempt to escape prison, ("Visiting Ours") and letting people sneak to upstairs windows. ("Shock and Aww")
Trivia
Three different truck cabs were used over the filming of the series, all Ford F350s. A 1978 or '79 model, a mid-1980s model, and a 1967-72 model updated with a late '70s grille.

The Bluth Company logos on the side and top of the stairs are inconsistent from episode to episode because of these changes.
Images