Ad blocker interference detected!
Wikia is a free-to-use site that makes money from advertising. We have a modified experience for viewers using ad blockers

Wikia is not accessible if you've made further modifications. Remove the custom ad blocker rule(s) and the page will load as expected.

To satisfy an English requirement, Michael Bluth appeared in the Drama Club's production of the original musical The Trial of Captain Hook in the tenth grade. He played the prosecuting attorney against Captain Hook.
Michael:
You're a crook, Captain Hook. Judge, won't you throw the book at the pirate...  
From "Altar Egos"
Being in the musical slightly inspired Michael to pursue law which he attempted to do when reading a plea for his father's conviction. ("Altar Egos") He later tried to play lawyer again on the pilot episode of Mock Trial with J. Reinhold, and his mother reminded him of the play. ("Fakin' It")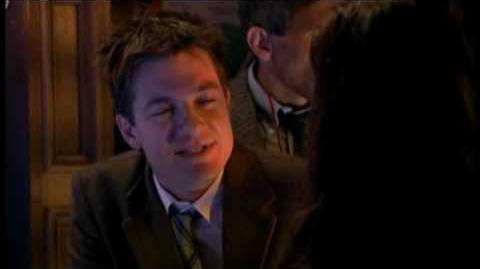 Lucille is arrested at sea and therefore her crimes fall under maritime law. Michael remembers back to his performance in The Trial of Captain Hook, in which he as Peter Pan also flew. Unfortunately something went wrong and he fell and crashed into the court's seal. The loose seal then fell off the wall, rolled and crushed Captain Hook's hook. ("Flight of the Phoenix")