Tobias Fünke is the husband of Lindsay Bluth Fünke and the father of Maeby Fünke and is a main character of Arrested Development. He is portrayed by David Cross and appears in 48 episodes of the series.
He was a psychiatrist and "analrapist" but lost his licenses by hurting a man during CPR. He has since been seeking work as an actor, to little success. He aspired to be a member of the Blue Man Group for a while, but they rejected him.
Lindsay married Tobias as a form of protest against her parents, but the two occasionally have intimate moments. Although he repeatedly denies it, he is most likely homosexual. He suffers from a rare medical condition, making him a Never Nude.
Tobias was last seen in "Development Arrested" at George's exoneration party, making amends with Lindsay.
About
Acting career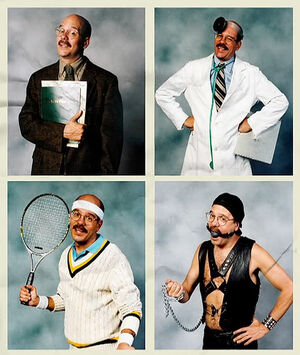 At the beginning of the series, Tobias decides that his destiny is to become an actor, and he pursues this career throughout the series without any success. Highlights of his "career" include: being turned down for the role of 'Dr. House'; landing the part of "Frightened Inmate #2" in a prison film, only to get fired for not being able to do the shower scene due to his condition (see below); and attempting to join the Blue Man Group as a standby understudy and, as a consequence, spending part of the second season covered in blue make-up.
In a move inspired by the film Mrs. Doubtfire, Tobias masquerades as a British housekeeper/nanny named "Mrs. Featherbottom" in an attempt to spend time with his wife and daughter after Lindsay kicks him out of the model house. While the disguise fools no one, the family humors him since this gets the housework done.
Although he continually takes very expensive acting lessons from Carl Weathers (the actor who is mostly known from his portrayal of Apollo Creed in the Rocky franchise as well as a Marine in Predator), he mainly gets tips on how to make stews from Mr. Weathers. Lindsay continually pokes fun at Tobias' desperation to become an actor, and they split up and reconcile many times over the course of the series.
Never nude
Tobias suffers from "Never Nude" syndrome (which, as the narrator states, is "exactly what it sounds like") and wears denim cut-off shorts at all times in order to avoid anyone (including himself and his wife) seeing his pelvic area. The condition is similar to severe gymnophobia, although it is portrayed humorously. He conquers this for a time in the middle of the first season, but after a close-up picture of his genitalia is shown on the evening news (where it has been mistaken for a photo showing evidence of WMDs in Iraq), he is driven back to the cut-offs.
Sexuality
Although never formally admitted he has said many things that make people question his sexuality. He makes frequent sexual double-entendres to which he seems completely oblivious. He even records himself saying these clearly homosexual statements and concludes that he is a "Blow Hard", further showing his propensity to be completely ignorant of his actions. Lindsay, who married Tobias to spite her parents, is convinced that her husband is a homosexual. His book, The Man Inside Me, is a cult gay hit, as Tobias wrote on the topic of romantic relationships with only male pronouns, to avoid confusion.
He has experienced sexual difficulties with his wife. This leads to their joint decision to try an "open" marriage, even though Tobias himself acknowledges that this path never works. Tobias doesn't really follow through with the "open relationship", and often stalks his wife covered in blue paint, following her around on her attempted dates hiding in areas that are blue in color in order to remain unseen.
Other quirks
Tobias is very fond of awkwardly rolling or somersaulting into and out of certain situations mainly to show his dexterity and balance though this often backfires. Indeed, Fünke claims to command "cat-like reflexes."
Character history
Season one
After losing his job and medical license in Massachusetts, Tobias, Lindsay and Maeby moved back to California. At George's retirement party he accidentally boarded a group of actors protesting the yacht club's ban on gay marriages at sea. From spending the day with the actors, he realized he wanted to become an actor. ("Pilot") He begins his acting career by auditioning for a Fire Sale commercial but overacts and is passed up for Lindsay's accidental realistic approach. ("Top Banana")
Tobias continues to pursue his love for acting by directing Maeby's high school's rendition of Much Ado About Nothing, casting Steve Holt as the female lead. ("Bringing Up Buster") Tobias and Lindsay see a marriage counselor but Tobias takes the chance to practice acting in a role reversal. ("Visiting Ours") When the Living Classics pageant rolls around, Tobias reveals his Never Nude affliction to George Michael. ("In God We Trust") Tobias tries to show an interest in Maeby's life and buys a "leather daddy" outfit, which leads him to an underground leather bar. ("Storming the Castle") When Michael hires a publicist to revamp the Bluth's image, Tobias is instructed to go demand his medical license back. Instead he becomes an acting student under Carl Weathers. ("Public Relations")
Tobias has highs and lows as moves out of Lindsay's bedroom but is offered the role of Frightened Inmate #2. ("Marta Complex") Lindsay and Tobias make amends and she helps him get over his Never Nude issue for his new role. ("Beef Consommé") He then checks himself into George's prison to research the role. ("Staff Infection") George trades him for a pack of cigarettes, but Tobias rebounds by accidentally talking White Power Bill into killing himself and becomes "Dorothy", the leader of the inmates. ("Missing Kitty")
Tobias and Lindsay pay George Michael to tutor Maeby. ("Altar Egos") Tobias uses his cat-like agility to break into Maggie Lizer's house to recover evidence for George's trial. ("Justice Is Blind") Tobias tries to strike back up the Dr. Fünke's 100% Natural Good-Time Family Band Solution for the sake of saving his relationship, but ends up flirting with G.O.B.'s wife. ("Best Man for the Gob")
Tobias and G.O.B. decide to make some money by starting a company, Gobias Industries but Michael passes them up on investing. ("Whistler's Mother") Tobias becomes a security guard at the mall to prove to Lindsay that he is manly. ("Not Without My Daughter") Lindsay does return to him when it turns out he is making money from his self-help book The Man Inside Me. ("Let 'Em Eat Cake")
Season two
Season three
Trivia
Images
→ See 685 pictures of Tobias Fünke at Images of Tobias Fünke.