Tony Wonder
Talk

0
560pages on
this wiki
  Tony Wonder: DID SOMEBODY SAY WONDER!?

Tony Wonder is a magician. G.O.B. and Buster are fans.
Character history
Season two
He is first seen in an issue of Poof magazine for baking himself into a giant sandwich to feed the troops. This made G.O.B. jealous and attempt to do the magic coffin illusion. ("Good Grief")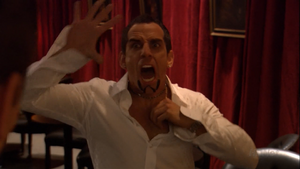 His favoured illusions appear to be to produce items from thin air, such as (warm) bread, Hannukkah cookies and Subway Sub Club cards. Another of his tricks was to appear from thin air himself when somebody said "wonder" - which he achieved by hiding in a dumbwaiter at The Gothic Castle.
He was attempting to create a video of magic tricks called Use Your Illusion. However, a band (Guns N' Roses) have the rights to that name (a reference to real-world issues with Arrested Development's name). He was considering Use Your Illusion 2, but it turns out Guns N' Roses have the rights to that too. His next choice of name was Use Your Allusion. In this final case, he planned to include actual allusions, such as by Edgar Allan Poe. G.O.B. and Buster performed The Sword of Destiny illusion as an audition to appear on Use Your Allusion. ("Sword of Destiny")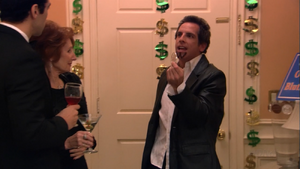 Season three
G.O.B. mentions that Tony Wonder lost a nut by keeping a hungry dove down his pants. ("Making a Stand") Tony attends the Bluth family's "Save Our Bluths" party. ("S.O.B.s")
Season four
Tony Wonder will return in Season Four.
Tony Wonder's website
The website suffers from intrusive pop-up advertisements, including one for Family Guy - a comment on similar issues Arrested Development had during its original broadcast on FOX.
The banner reads "TonyWonder.com" - however, the URL in the browser's location bar reads "razzledazzle.org".
Images
→ See and enjoy 15 pictures of Tony Wonder at Images of Tony Wonder.
Appearances